Beer is an inextricable part of Milwaukee's DNA, and has been since even before the city was officially founded. From the old-school titans to today's spectrum of craft and micro experimentation, breweries continue to be a serious — and seriously fun — business.
The area has seen the rise and fall of nearly 200 breweries and brewing companies since the 1840s, and Milwaukee tapped into its Brew City reputation in the late 1800s as German beer barons such as Valentin Blatz, Franz Falk and Jacob Best emigrated to the area and set up shop. By 1900, Pabst was producing more than 1 million barrels of Pabst Blue Ribbon a year.
The trend of growth and consolidation continued into the 20th century as dynasties such as Pabst, Schlitz and Miller expanded nationwide. Miller (now MolsonCoors) survives as the linchpin of Milwaukee brewing, producing more than 10 million barrels in 2017.
Toward the end of the 1990s, smaller breweries such as Lakefront Brewery opened, catering to customers looking to expand their palates beyond pilsners, and paving the way for an explosion in craft brewing in Southeast Wisconsin.
Today, beer brewing is considered an art, and aficionados have helped ferry the rise of craft brews and breweries into an elevated dimension of refined tastes for their numerous fans.
Big Beer Business
According to the Beer Institute in Washington D.C., the brewery business (brewing, distribution and retail) accounts for more than $1.3 billion in annual economic impact in our area and 7,500+ jobs.
And while the pandemic resulted in a 9 percent decrease in production volume for craft breweries in 2020, with revenue and profits down even more, and a 3 percent decline for the major and microbreweries, according to Bart Watson, PhD, Brewers Association chief economist, "total beer production in Wisconsin was actually up a fair bit in 2020," he adds.
"The thing that ties all of these data points together is that draft sales dropped sharply, but packaged beer production picked up," Watson continues. "This meant the large brewers such as MolsonCoors benefit more than small brewers. Regardless of production, the economic impact was likely down, since retail sales of beer were down everywhere as sales shifted from bars and restaurants, with a higher retail margin, to grocery and liquor stores with a lower retail margin."
Watson believes production volume for small brewers will likely grow in 2021, but won't fully return to 2019 levels. "Overall, we'll likely see similar production trends as 2020, with retail sales still somewhat below their 2019 levels, but above 2020," he says. 
Find A New Favorite
On page 110, you'll find a map, courtesy of VISIT Milwaukee, that is the perfect guide to brick-and-mortar breweries and taprooms in our area. Keep it handy so you can plot a brewery crawl with pals, enjoy a quaff at a nearby brewery after a visit to a park or museum, or just enjoy learning more about the brewing process from local folks who are as passionate about a great beer as you are. You can also order a physical copy of the map or download a printable version at visitmilwaukee.org.
A reminder before you go: As of press time, COVID safety rules, including masks, are still in place, so a quick phone call or online visit is always recommended to find out what your visit will entail. MKE
---
Prost!
Welcome back summer socializing with this season's area beer gardens and toast MKE's continued recovery.
As Milwaukee continues to emerge from the shadow of COVID and gets back into the swing of socializing, plan on hoisting a pint while enjoying relaxing summer days and evenings at local beer gardens.
Many of the parks are dog-friendly; COVID safety protocols, including masks, are in place for most. Check the site before you go for the most updated info.
the baaree at the cheel
105 S. Main St., Thiensville, thebaaree.com
Hours: Tue-Thur 2-10 p.m., Fri-Sat 2 p.m.- midnight, Sun 2-8 p.m.
Sharing the site of the rebuilding Thiensville restaurant, this German-style beer garden will feature beer, cocktails, baaree food and live music.
---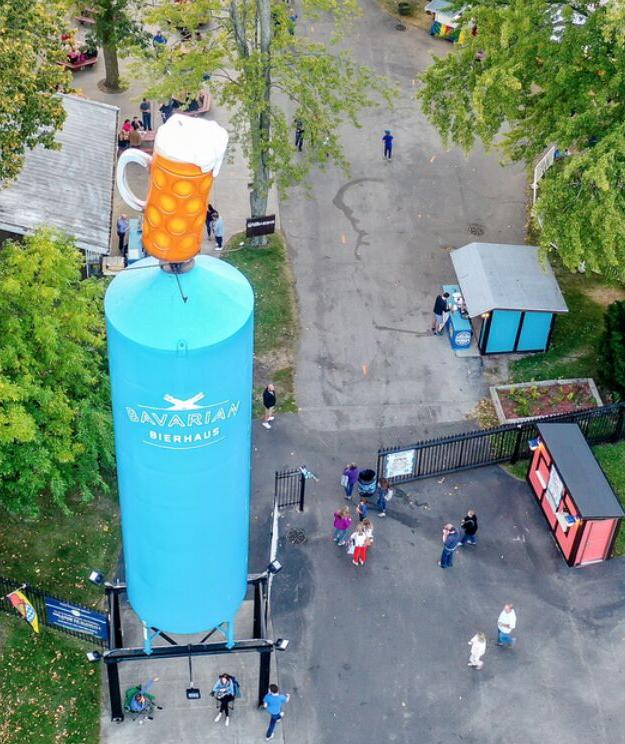 Bavarian Bierhaus (Biergarten in Old Heidelberg Park)
700 W. Lexington Blvd, Glendale, thebavarianbierhaus.com
Hours: Thur-Fri 4-10 p.m., 11 a.m.-10 p.m. Sat, 11 a.m.-8 p.m. Sun through Labor Day
More than 300 picnic tables are available (no reservations needed). Live music featured most days. 
---
Beer Garden at the Corners
20111 W Bluemound Rd., Brookfield, 
thecornersofbrookfield.com/event/Beer-Garden-at-The-Corners
Hours: Thursdays 5:30- p.m. June 10-Aug. 26
Drinks will be served by Café Hollander in the Market Square, with an array of musical artists each Thursday. Touchless ordering and walk-up service will both be available.
---
Beer Garden @ the Deer District
1133 N. Old World Third St., Milwaukee, thebeergardenmke.com
Hours: Fri 3-8 p.m., Sat 11 a.m.-8 p.m.,  11 a.m.-6 p.m. Sun, and for select Bucks games
Domestic and craft beers are featured in its 20 tap lines. Packaged food and beer is available, and other food can be ordered from nearby Cream City Cluckery.
---
Biergarten @ The Schwab (Schwabenhof Biergarten)
N56W14750 Silver Spring Dr., Menomonee Falls, theschwabenhof.com/biergarten
Hours: Thursdays 4-10 p.m. 
On-tap German beers, a full-service bar and German will be offered, with designated nights for German music and other activities.
---
Bottle House 42 Beer Garden
1130 N 9th St., Milwaukee, bottlehouse42.com
Hours: Wed-Thur 4-9 p.m., Fri-Sat 11 a.m.- 10 p.m, Sun 10 a.m.-3 p.m.
The adjunct to the new Bottle House 42 includes outdoor picnic tables, fire-pits and lighting, and is dog-friendly. Food and drink can be ordered at the bar.
---
Depot Beer Garden at Old Falls Village Park
N96 W15791 County Line Road, Menomonee Falls, oldfallsvillage.com
Hours: Saturdays 3- 9 p.m., extended special events hours
In addition to a rotating selection of craft beers and food, the garden will host live music
and events.
---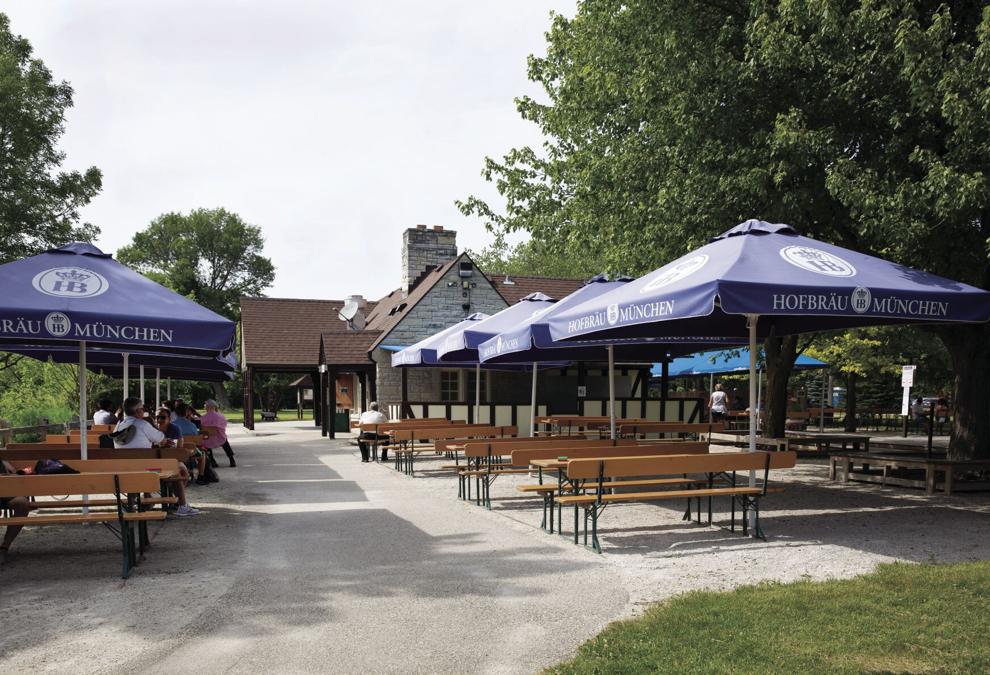 Estabrook Park Beer Garden
4600 Estabrook Dr., Milwaukee, estabrookbeergarden.com
Hours: Open daily at noon
The fabled beer garden includes park amenities such as playgrounds, disc golf, a dog park and a Riverwalk along the Milwaukee River. Beers are imported from the Munich Hofbrauhaus with a limited food menu; visitors can bring picnic baskets with food and soft drinks (no carry-in alcoholic drinks). All seating is shared.
---
Franklin Beer Garden at Croatian Park
9100 S. 76th St., Franklin, croatianparkbeergarden.com
Hours: 5–10 p.m.Thursdays
This dog-friendly garden serves up Croatian beer and provides access to bocce and volleyball courts. 
---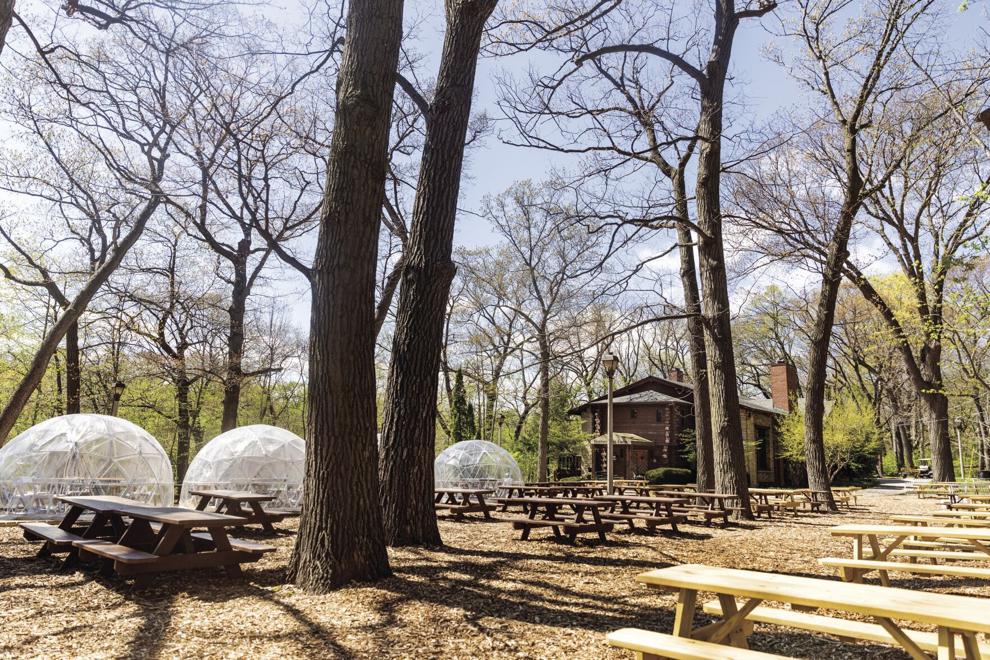 Hubbard Park Beer Garden
3565 N. Morris Boulevard, Shorewood, hubbardparkbeergarden.com
Hours: Wed-Thur 4-10 p.m., Fri-Sun noon-10 p.m.
Open year-round, the facility offers beer, wine, specialty drinks and a limited food menu. Limited indoor seating can be reserved for dinner and Sunday brunch. 
---
The Landing at Hoyt Park
1800 N. Swan Boulevard, Wauwatosa, friendsofhoytpark.org/the-landing
Hours: Wed-Fri 3-9 p.m., Sat-Sun and holidays noon-9 p.m.
A changing menu of craft beer along with wine and a limited food menu will be available. 
---
South Shore Terrace
2900 S. Shore Drive, Milwaukee, southshoreterrace.com
Hours: 3- 8 p.m. July 23 and 25, noon- 8 p.m. July 24; 3- 8 p.m. Aug. 20 and 22, noon- 8 p.m. Aug. 21; 3- 8 p.m. Sept. 17 and 19, noon- 8 p.m. Sept. 18
Located in a 1930s bathhouse, you'll find breathtaking views of Lake Michigan with Miller beers and locally sourced food.
---
The Tap Yard 
Bay Shore — 5689 N. Bayshore Dr., Glendale; MKE — 1301 N. Edison St. Milwaukee; Waukesha — 1150 W. Sunset Dr., Waukesha, thetapyards.com
Hours: Wed-Thur 4-9 p.m., Fri 4-10 p.m., Sat 11 a.m.-10 p.m., Sun 11 a.m.-7 p.m.
With three announced locations, the new beer gardens will feature a 40-foot shipping container as home base. The staff will be pouring 36 craft beers from local and regional brewers along with wine. Most locations will have live music and other events.
---
The Vine — Humboldt Park Wine & Beer Garden
3000 S. Howell Ave., Milwaukee
humboldtparkmilwaukee.org/park-amenities/humboldt-park-beer-garden
Hours: Mon-Fri 3 p.m.- 10 p.m., Sat-Sun and holidays 11 a.m.-10 p.m., last call 9 p.m.
Located in the Bay View neighborhood, visitors will find craft beer, wine and empanadas in an iconic farmhouse location.
---
Whitnall Park Beer Garden
8831 N. Root River Parkway, Greendale, whitnallbeergarden.com
Hours: Mon-Fri 4-9 p.m., Sat-Sun 11 a.m.-9 p.m.
Dog-friendly park with 24 local craft beer taps and hard soda and wine. Visit the site to reserve a table. 
---
Local breweries with beer gardens
Several local breweries have adjacent beer gardens or outdoor seating to enjoy a hearty quaff. Some are dog-friendly and allow carry-ins (check their sites for details). They include:
• Eagle Park Brewing 823 E Hamilton St., Milwaukee, eagleparkbrewing.com
• Eagle Park Brewing S64 W15640 Commerce Center Pkwy, Muskego, eagleparkbrewing.com
• Gathering Place Vienna Ave. Biergarten, 811 E. Vienna Ave., Milwaukee, gatheringplacebrewing.com
• Kegel's Inn Beer Garden, 5901 W. National Ave., West Allis, kegelsinn.com
• Stock House Brewery Beer Garden, 7208 W. North Ave., Wauwatosa, stockhousebrewing.com
• Third Space Brewing Beer Garden, 1505 W St. Paul Ave., Milwaukee, thirdspacebrewing.com
---
Traveling beer gardens and pop-ups
The much-anticipated return of the  traveling beer gardens is back in force this summer at local county and municipal parks. Here's what the summer tour looks like so far.
Milwaukee County Parks Traveling Beer Gardens
Two former fire trucks restored to beer delivery wagons will supply craft brews from Sprecher Brewery this season. Revenue goes back to park improvements. Hours for each truck will be Mon-Fri 5-9 p.m. and Sat-Sun and holidays 11 a.m.-9 p.m.
Roll Out the Barrel tour
Juneau Park, May 12-31
Cooper Park, June 2-20
Grant Park, June 23-July 5
Lake Park, July 7-July 25
McCarty Park, July 28-Aug. 22
Pass Me a Pint Tour
West Milwaukee Park,
May 19-June 6
Doctors Park, June 9-27 
Greenfield Park, June 30-July 18
Froemming Park, July 21-Aug. 8
Juneau Park, Aug. 11-Sept. 6
Waukesha County Pop-Up Beer Gardens (with Raised Grain Brewery)
waukeshacounty.gov/popupbeergardens
Raised Grain Brewery will provide seven tap beers and hard seltzer, and a lineup of different food trucks will be available at each location. A $6 park entrance fee applies, or free with annual Waukesha County Park stickers. Beer tokens not included.
See website for dates, parks and times.
Beergo
Pewaukee
The 1984 Winnebeergo is now a baRV, with eight taps dispensing local craft and seasonal beers throughout the Lake
Country area. 
4:30 p.m.-dusk Thursdays through Sept. 2 at Pewaukee Lakefront Park 
5-9 p.m. Fri-Sat at Nettesheim Park, Pewaukee (pop-up beer garden)
5-9 p.m. June 11-12, 18-19, 25-26, July 23-24, 30-31, Aug. 6-7 at South Park Beer Garden, Waukesha
5-9 p.m. July 9-10 and Aug. 13-14 at Wagner Park, Pewaukee (pop-up beer garden)
5-9 p.m. July 16 at Nettesheim Park (youth baseball fundraiser)
5-9 p.m. Fridays and Saturdays Aug. 20-Oct. 31, Kiwanis Village Park, Pewaukee
Lake Country Beer Garden
Hartland
The beer garden includes beer, wine, non-alcoholic drinks and food with live music Thursday nights at Nixon Park in Hartland.
Thur-Sat 4-9 p.m. and 2-7 p.m. Sun
New Berlin Beer Gardens (with Component Beer Co.)
facebook.com/events/272950414479231
New Berlin and Component Brewing Co. team up for beer gardens with food, games and music July 23-25.
Fri 3-8 p.m. July 23, noon-8 p.m. Sat July 24, 3-8 p.m. Sun
July 25 at John J Malone Park, New Berlin (with additional dates Aug. 8, Aug 20-22 and Sept. 17-19). An Oct. 3 event will be held at Historical Park, New Berlin, in conjunction with Applefest. 
MKE
---
Map courtesy of