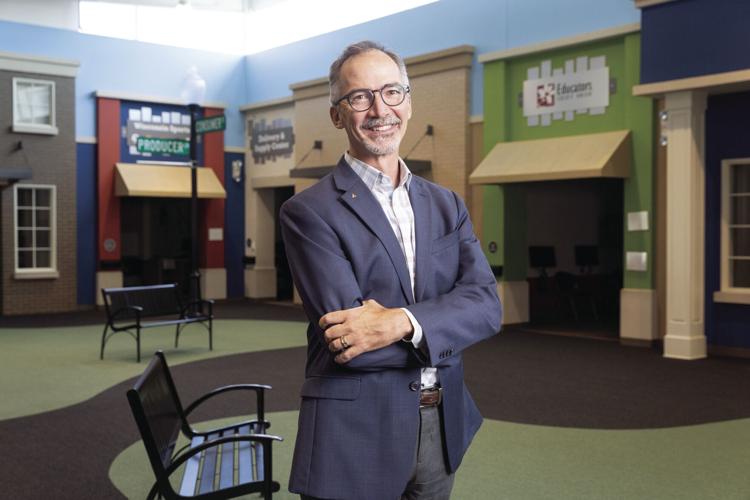 As Junior Achievement of Wisconsin President Michael Frohna walked away from a coffee shop counter in Wales, he noticed a few teenage girls buying $5 coffee drinks and leaving large gratuities. It both pleased and puzzled him. When the girls sat an adjacent table, he asked why they tipped so graciously. "We're in the Junior Achievement program at our school," one told him. "Junior Achievement taught us about what makes our economy go around."
JA's mission is to teach K-12 students how to start a business, understand our economy and engage in entrepreneurship. Realizing students must also learn to embrace business and investment on a personal level, JA Wisconsin fine-tunes lessons in personal finance.
Headquartered on Milwaukee's far northwest side, JA Wisconsin is just shy of 80 years old. Half of the 150,000 student participants statewide are from metro Milwaukee area schools. 
JA Wisconsin's volunteer ranks total more than 8,000 ("They're the backbone of our organization," Frohna says). Volunteers come from all walks of life — business people, college students, parents, and retirees — and work with JA to create curriculums that reflect local needs and services. 
Emulating real-world experiences
Talk to JA of Wisconsin participants who were with the organization even 40 to 50 years ago, and they can still tell you what jobs they had when they attended either JA's BizTown (grades 4-6) or JA's Finance Park (grades 7-12)."For many of our students, this is probably the first job they ever had," Frohna remarked.
In BizTown, young entrepreneurs might run a radio station, manage a bank or serve soda and popcorn from the Culver's stand. In the Finance Park "That's Life" program, students receive a faux identity with a job and family structure and have a "family income" to set up a budget. Like everyday life, their budgets may take a hit, such as a unexpected furnace or water heater breakdown when finances are already tight. 
"Because life happens, we'll throw the kids a curve as they are setting their budget," Frohna explains. "We teach them to prepare for the unexpected." 
Workforce development
Corporate funding from businesses of all sizes is the mainstay of JA's operations. 
"Our donors give because they see the lifelong value in the programs we offer," Frohna says, listing Rockwell Automation, Kohl's Corporation and Ernst & Young among its major corporate donors. In the past 30 years, Rockwell alone has donated more than $1.6 million to support JA of Wisconsin.
Rockwell Vice President of Public Affairs Patricia Contreras has worked with JA for the 12 years she has been with the company. She sees supporting the organization as critical for student education and a great benefit to Milwaukee-area businesses.
"It is all about workforce development. Students need equal access to quality programming to prepare them for jobs of the future," Contreras says. "That the magic of JA—connecting our caring employee volunteers with promising young minds."
Adapting to a pandemic
Like so many companies dealing with the curveball that is COVID-19, the statewide organization has had to adapt, teaching students additional lessons in planning for the unexpected along the way. Now, because of its virtual presence, JA Wisconsin finds its reach to be truly global.
"Our hallmark has always been about placing volunteers in the classroom," Frohna says. "With COVID, people are not going out to the schools, so, we had to find a new way."
Digitized offerings have been created to offer participants access in three ways: One to One (one volunteer to one classroom), JA Live (one volunteer shared by many locations) and JA on Demand (a database of pre-recorded programs).
Frohna knows digital teaching can't — and shouldn't — replace face-to-face education. When schools resume their normal schedules, JA Wisconsin volunteers will be there as well, Frohna says. 
"Nothing can take away from that true human connection and inspiration between a volunteer and a student," Frohna said. "When that happens, it is truly magical."  MKE
---
How You Can Help
Safely celebrate the giving season with these worthwhile events.
Cristo Rey Jesuit High School A Night of Impact
Nov. 6, 2020, 7:30pm
Cristo Rey Jesuit students are trailblazers, dedicating themselves to success through rigorous education, faith formation and work readiness skills so they are truly prepared to for their future. This one-time virtual fundraising event and your contribution will help students achieve their dream of a college education, allowing them to become productive and faith-filled members of society with advanced degrees, real-world experience and a strong desire to use their gifts to uplift and grow their communities.
For information about the event or sponsorship opportunities, contact Jessie Pelnar at 414.702.6707 or jpelnar@cristoreymilwaukee.org.
Milwaukee Youth Symphony Orchestra Play Your Part 
Through Nov. 9, 2020
This important fundraiser helps to ensure that the music plays on for the youth symphony's dedicated students throughout this challenging season. Every dollar you give enables a young musician to follow their dreams, and aids MYSO's commitment to welcoming every student who wants to explore their musical talents, regardless of their ability to pay. Donate to the MYSO through Nov. 15 and your donation will be met dollar for dollar up to $25,000 via the Anthony Petullo Play Your Part Matching Challenge!
Find out more at p2p.onecause.com/mysoplayyourpart
Make-A-Wish Wisconsin Wish-A-Thon
Dec. 10-11, 7 a.m. to 7 p.m. on 95.7 BIG FM, 97.3 The Game and the iheartradio app. 
Please join Make-a-Wish Wisconsin for two days of inspiring stories shared by wish kids and their families to help raise funds to grant wishes for kids battling critical illnesses. Despite all of the changes that COVID has brought to the world and to the Make-a-Wish mission, wishes are still being granted in a safe manner, bringing hope to families during these unprecedented times. 
For more information on this event and other ways to support Make-A-Wish Wisconsin and local wish kids, please visit wisconsin.wish.org or wish.org/wisconsin/ways-help-us
Ronald McDonald House Charities Eastern Wisconsin virtual holiday events
Join Ronald McDonald House Charities of Eastern Wisconsin for this festive, virtual event designed to help you launch your holiday shopping (even if you're gifting yourself) and, at the same time, support this important organization as it uplifts families of critically ill children who must travel far from home for the best care. 
Holiday Boutique, Nov. 7
Experience the best of what our guests have come to know and love - including a professional fashion show - all from the comfort of home!
9 a.m. - Silent Auction Opens
11 a.m. - Boutique Shopping Opens
12 p.m. - Live Program:
   • Welcome Remarks
   • Pearson Family Story
   • Fashion Show by Nordstrom
12:45 p.m. - Closing Remarks
2 p.m. - Silent Auction Closes
5 p.m. - Boutique Shopping Closes
The event is free, but you must register in advance to receive the event link and bidding instructions. Sponsorships are also available.
Learn more at app.mobilecause.com/e/KPpmDA?vid=ce37r
Christmas Fantasy House "Stuff the Stocking" Wish List Drive, Nov. 11-15
The annual Christmas Fantasy House event cannot happen this year due to the pandemic, but you can still honor its spirit of giving by taking part in this special event.
Learn more at christmasfantasyhouse.com
Women for MACC Design to Inspire virtual event
Nov. 11, 2020, 7-7:35 p.m., live program
Nov. 11-15, 2020, Silent Auction and 
MACC Star Purchases
For the past 37 years, Women for MACC has hosted a Couture for a Cure, its successful fashion show to raise much-needed funding for research in the fight against childhood cancer and related blood disorders. As a result of the ongoing pandemic, Women for MACC is excited to bring you our "Designed to Inspire" virtual event."
One hundred percent of Women for MACC's investment in research stays in Wisconsin, with the vast majority remaining in Milwaukee at The Medical College of Wisconsin and Children's Wisconsin. 
Learn more at womenformacc.org/designed-to-inspire
Kapco Kids2Kids Christmas Wonderland, Nov. 27 to Dec. 31, 2020  
Kapco's Kids2Kids Christmas Wonderland is a groundbreaking drive-thru holiday event that will feature millions of lights, hundreds of inflatable holiday décor pieces, a live nativity scene, a Santa's workshop and more. As in years past, new toy donations will be collected and distributed to children in need throughout the community. The event will take place at the corner of Highway 60 and Cheyenne Avenue in Grafton.   
To learn more and purchase tickets for the event, visit www.kids2kidstoydrive.com MKE