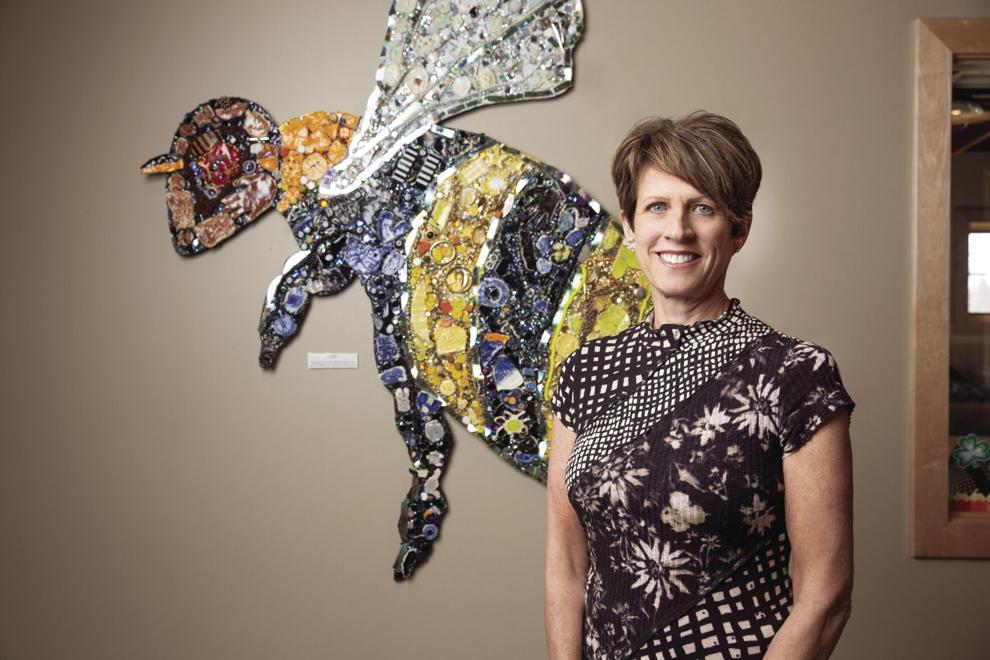 Call it education through innovation. 
Milwaukee-based SHARP Literacy partners with local educators to foster a love of learning through experiential, STEAM-based (that's Science, Technology, Engineering, the Arts and Mathematics) programs, says Lynda Kohler, president and CEO of SHARP, which currently delivers virtual educational programs to more than 5,000 urban elementary students in 36 schools throughout Milwaukee, Waukesha and Racine.
SHARP offers an innovative approach to teaching kids ages 3 through about 12 — augmenting traditional classroom basics such as science and math with topics such as web coding and language, and community art participation — to help children learn to adapt in today's fast-changing culture.
 "We believe in giving every child in our community the same educational opportunities, no matter their circumstances," Kohler says. "Through STEAM-based programs and arts-integrated projects, we're inspiring students to become lifelong learners. SHARP stays relevant to today's youth by offering a wide range of comprehensive science and technology-focused programs." Combined with Wisconsin early learning standards, the programs "encourage curiosity, creativity and discovery and help to sharpen critical thinking, problem-solving and communication skills," she adds.
That hands-on programming guides younger students toward new ways of learning that promote collaboration, creative thinking and problem solving. And it is making an impact locally. In 2019-20, a survey of 162 teachers gave SHARP an approval rating of 86 percent.  Adding STEAM concepts into the lower elementary curriculum "have been very well received by our partners — school year, summer programs and afterschool," Kohler says.
"Adding arts integration into our programing and educational tours has been a huge success to the students and the teachers," she notes. "Besides creating a fun and engaging way to get students to learn and absorb new material, arts integration has many benefits. It helps children develop creative problem-solving skills, motor skills, language skills, social skills, decision-making skills, risk-taking skills and inventiveness." 
Kids and Coding
One part of the SHARP program, Design Through Code, helps third graders understand the basics of coding and walks fourth- and fifth-graders through the language of coding to help develop essential skills in logic, collaboration, critical thinking, creativity and problem-solving.
"This generation has grown up in a web-based culture," Kohler explains. "They've never known what it's like to live in a world without smartphones or iPads, let alone the internet. One of the major goals of our DTC program is to show kids that they can be more than just passive consumers of technology — they can actually design and create technology. By teaching them the building blocks of computer science and design thinking, we're opening up a whole world of possible careers for them."
The DTC program has resonated with these students, she continues. "The feedback from the kids has been fantastic," she says. "Because we incorporate unplugged — or off-the-screen — activities into our curriculum, students are able to learn about STEAM through many different activities: mazes, dancing and even art. It's such a fun way to learn about coding."
Another SHARP experience combines kids with local authors and designers. In its We Love to Learn book series, students in different grade levels collaborate with artists and writers to research, write, and illustrate books. 
The 16th book in the series was released in March. "The Didactic," a futuristic graphic novel used in conjunction with the Design Through Code program, was written and illustrated by Ian and Amber Corrao. 
Other We Love to Learn books include "Discover Waukesha" (January 2020), written by University of Wisconsin-Whitewater Professor Pilar Melero and illustrated by Sara Gail Luther, researched by more than 200 third grade students from five Waukesha County schools, and "Explore MKE: Your Neighborhood, Our City" (2016), written by Milwaukee blogger and storyteller Adam Carr and illustrated by Anu Murthy, was researched by 123 third grade students from five Milwaukee-area schools.
Community Art
The arts-focused collaboration is even more hands-on with the Community Art program, Kohler says. Under the guidance of local artists such as Sally Duback and Vedale Hill, students assist in creating large-scale community art projects, encouraging teamwork and an appreciation for the visual arts and with the unique perspective of young eyes and hands. 
"To date, 17 student murals are on display in various public buildings and schools throughout Milwaukee and Waukesha including locations like General Mitchell International Airport, Milwaukee County War Memorial, Milwaukee Intermodal Station, MSOE Grohmann Museum, Shorehaven (Oconomowoc), Ovation Chai Point, Terova Senior Living, Carroll University, and Carroll University's Prairie Springs Environmental Education Center," Kohler says.
And a summer arts educational program continues the journey for students, she explains. The 2021 program, Community Cultivators, features three different tracks focused on cultivating community to SHARP's 15+ community learning center partners. 
"This past year has been a challenging for all of us in many ways," Kohler reflects. "We hope by offering programming around the theme of community, collaboration and creativity, we can create a positive message of moving forward together."
The three 2021 experiences include "Art on the Move," a four-week SHARP staple with a local artist to create a community art piece; "Aloha Adventure," in which students exploring Hawaiian culture through literacy, art and creative theater play; and "STEAM Dunk," which showcases technology and math through basketball.
Virtual Learning
Like all learning institutions, the curriculum has also had to adapt during the COVID-19 era, Kohler says.
"When COVID-19 struck last March, we quickly shifted gears and immediately developed online educational videos that the community could access and teachers could distribute directly to students," she says. 
"During summer 2020, we partnered with Vedale Hill on a remote learning 'Art on the Move' program. Students worked on a specific art project at home, and then returned it to school. Vedale incorporated their creations into a mural celebrating diversity, 'Our True Colors,' which was unveiled in Milwaukee's Bronzeville district last fall." SHARP has also developed all-virtual STEAM-integrated educational programs for its partner schools, she says.
And as SHARP has shifted to all-virtual for the time being, Kohler has noticed some pros and cons. She lists them as follows:
Pros: "Different students learn in different ways. For some students, the rigid school schedule coupled with a long commute and high pressure expectations of having to sit and learn — even just being asked to sit still — simply doesn't work for them. For a lot of students, especially once they reach upper elementary, they feel peer pressure to look and dress a certain way, to have certain school supplies. That pressure is something that weighs heavily on a lot of underserved students. In a virtual learning environment, they can be 'camera off' (and in that sense, turning peer pressure off), which may help some kids to focus on the learning."
Cons: "Not all students have the same access to technology, which is an ongoing challenge. When students can't locate supplies provided by SHARP, it's difficult for them to participate, but SHARP teachers have always stepped in with alternate ways for them to participate and learn. We know that not all students have the same level of parental support and/or access to a quite learning environment, both of which play into how successful that student can be."
The Virtual Lag
After more than a year of pandemic-caused interruption, academia continues to strategize how to adapt and get students caught up.
"While the worst-case scenarios from the spring may have been averted, the cumulative learning loss could be substantial, especially in mathematics —with students on average likely to lose five to nine months of learning by the end of this school year," Kohler says. "Students of color could be six to 12 months behind, compared with four to eight months for white students." While all students are suffering, those who came into the pandemic with the fewest academic opportunities are on track to exit with the greatest learning loss, according to a study release by McKinsey & Co., she adds. 
Kohler says SHARP is shifting focus to topics such as math. "We're adding more rigor around math to our curriculums and program," she says. "We'll continue to make revisions as more information about specific areas of need is outlined."
Measuring Success
Kohler lists several different benchmarks to measure SHARP success. "We primarily look at three statistics: engagement, persistence and proficiency," she says. "Proficiency simply measures how successful students are at a task. Engagement is the percent of students present and actively engaged in the majority of the lesson. Persistence, a critical skill in STEAM but also in most aspects of life, is measured by students making an attempt, successful or not, to work on something such as a level on Code.org. Especially when trying something new and strange, it's important to have the courage to try, to fail and to try again."
SHARP assesses progress digitally through Google Forms or by tracking students' work on Code.org, she notes. MKE
---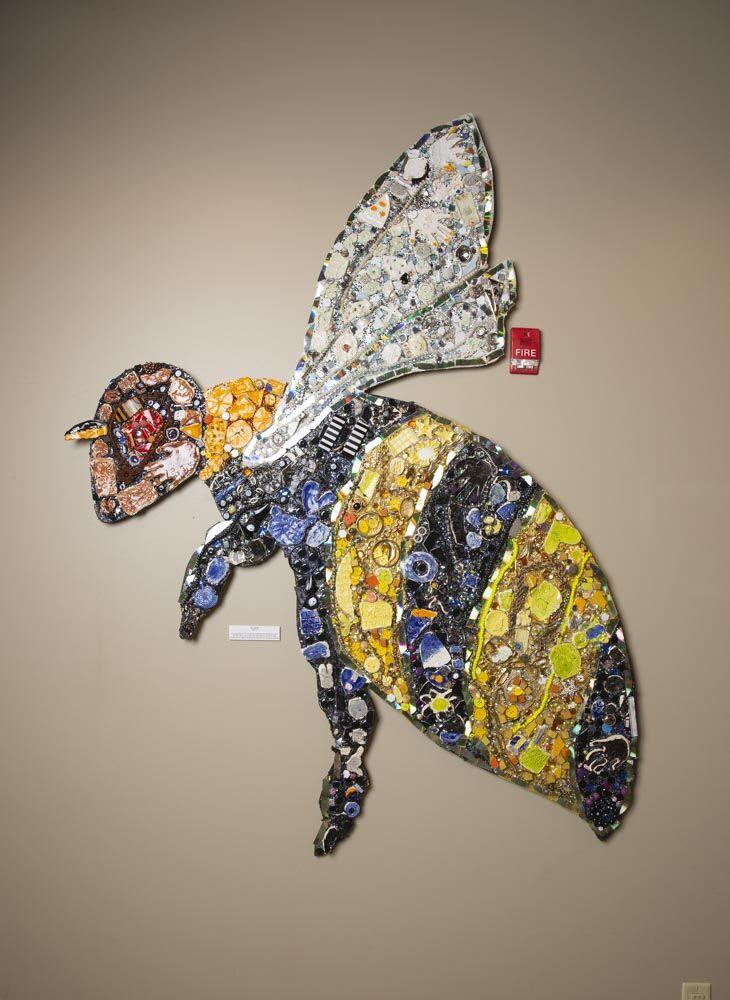 Bee Prepared
A 2017 mural with SHARP students during the summer Community Art program is featured at Carroll University's Prairie Springs Environmental Educational Center. 
The partnership with Carroll goes back a few years and originated as a Waukesha literacy program, "Reading with Pioneers," that connected Carroll men's basketball athletes coached by Paul Combs with elementary students. (There's a similar partnership with Marquette University and Steve Wojciechowski, "Reading with the Golden Eagles.")
Milwaukee artist Sally Duback has helped coordinate murals with SHARP over the years, so she led the creation of last year's "Bee" murals based on SHARP's "We Love to Learn" book "A Busy Bee: The Story of Bella the Honey Bee."
"In 2017, we partnered with Prairie Springs and the School District of Waukesha to create the 'Bee' mural, which is really a series of three mosaic murals each measuring four by eight feet," Kohler says. "Sally led the project, which included the participation of 130 second grade students from Banting Elementary, Summit View Elementary and Whittier Elementary schools, and was completed over a three-month period."
Duback helped students create and glaze ceramic tiles in fantastical shapes and glue them to the mural, along with pieces of broken costume jewelry and compact discs, shells, beads and glitter.
"It's important, when working with several school groups on a joint project, to explain exactly what the project is about and how it will look," Duback says. "Important because I want to generate enthusiasm for the process and to be sure they are invested in it from start to finish. And the process is important in any project because it takes planning and has many steps. I want students to understand that and learn from it. Most of all, I want them to have a really good time and to tap into their exuberant creative spirits."
The murals were done in four phases:
— Making drawings of bees
— Creating ceramic tiles to glue onto the 4' x 8' bee cutouts
— Glazing the tiles
—Adhering the tiles to the plywood cutout bee panels
"Students were allowed to make tiles of just about any subject, no larger than their hands," Duback says. "They were surprised at how the tiles changed color when bisque fired, and they were really excited to see their creations after they were glaze fired. 
"Then, gluing tiles to the bee panels was fun because they could also add mirrors, beads, and repurposed costume jewelry to the panels for the bling effect," she enthuses. "When the bee panels were unveiled at the nature center, the students were really nonplussed, so I knew that the whole process had made an indelible impression on them!"