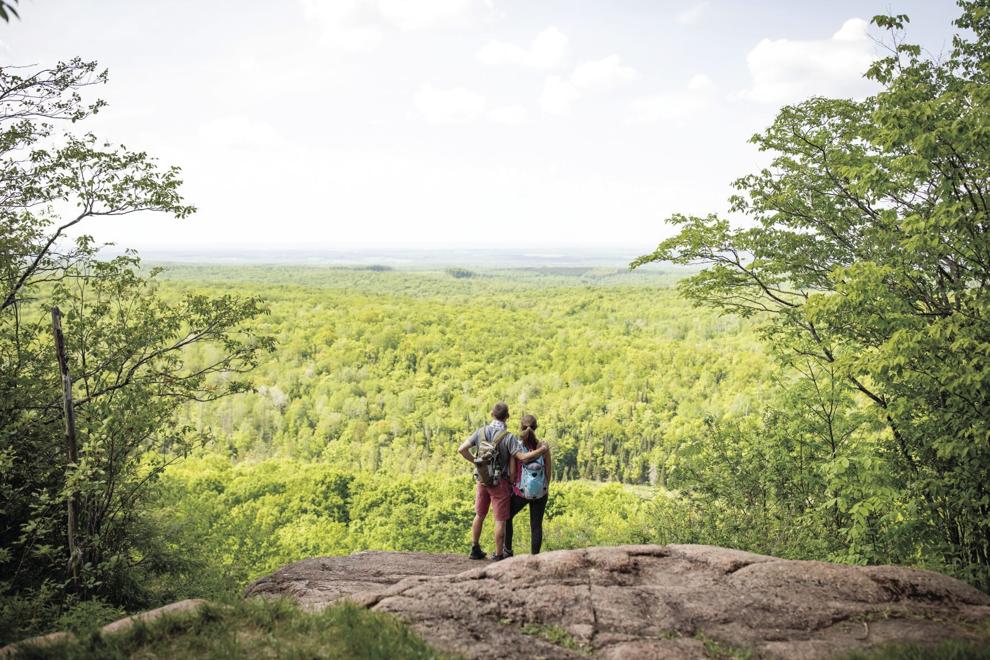 Though Wisconsin has been long known as the beer, brat and cheese state, it's getting a new reputation among adventure seekers. 
With 766 hiking trails, 4,290 rock climbing routes, 234 kayaking spots, 382 mountain biking trails and 36 ski resorts, Wisconsin ranked seventh on Outforia's 2021 Adventure Index. The website for outdoor enthusiasts ranked each state on the number of available activities in 10 categories, from rock climbing and hiking to surfing and skydiving.
Research from the DNR shows that 95 percent of Wisconsinites get outside annually. The national average — until this year — has hovered around 50 percent; however, in May 2020, the Outdoor Recreation Roundtable showed a 30 percent increase in participation from new outdoor enthusiasts. 
With 49 states parks in Wisconsin, the opportunities for outdoor recreation are abundant. Says Mary Monroe Brown, the director of the Office of Outdoor Recreation for Travel Wisconsin, "outdoor recreation is a way of life, and in Wisconsin, we have it all. Our culture of inclusivity, and spirited, welcoming demeanor make it all the more fun."
Tori Seiter is an adventure seeker and mother who leads the Adventure Mamas Initiative, Upper Midwest collaborative. It's a diverse and inclusive group that encourages mothers to get out of their comfort zone with monthly adventure trips throughout the state.
"In a world where moms were polite and sugarcoated the struggles of motherhood, this was not," says Seiter of the excursions. "There was swearing, honesty and adventure — without kids. I was hooked." Seiter lists kayaking and camping up in the Apostle Islands, and canoe camping on the Wisconsin River as two of her favorite trips.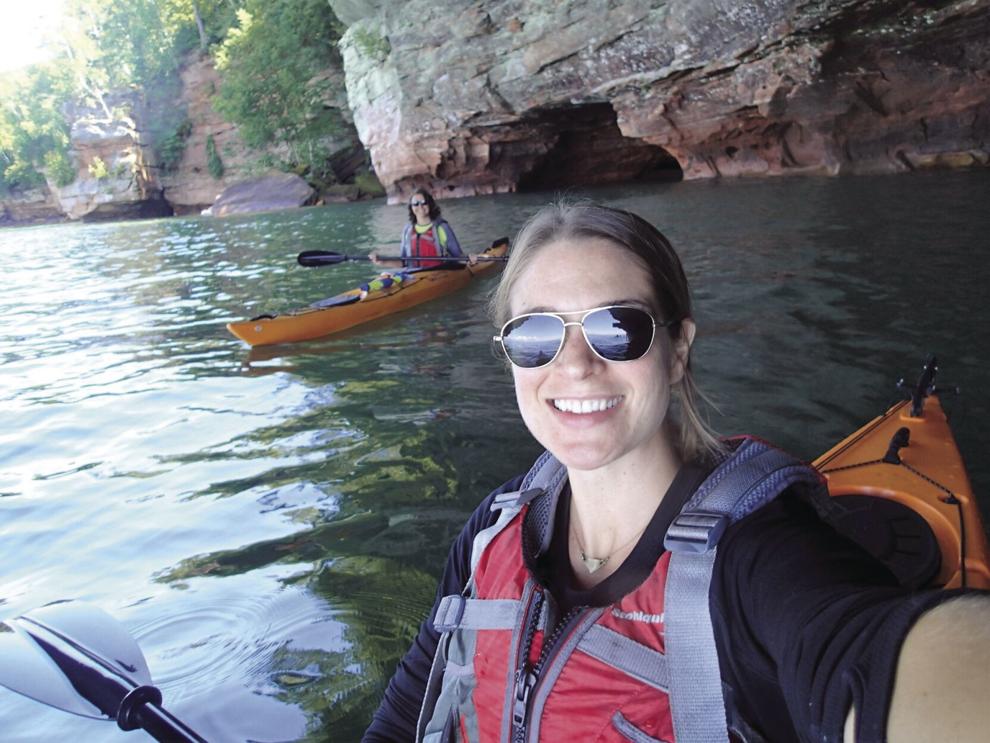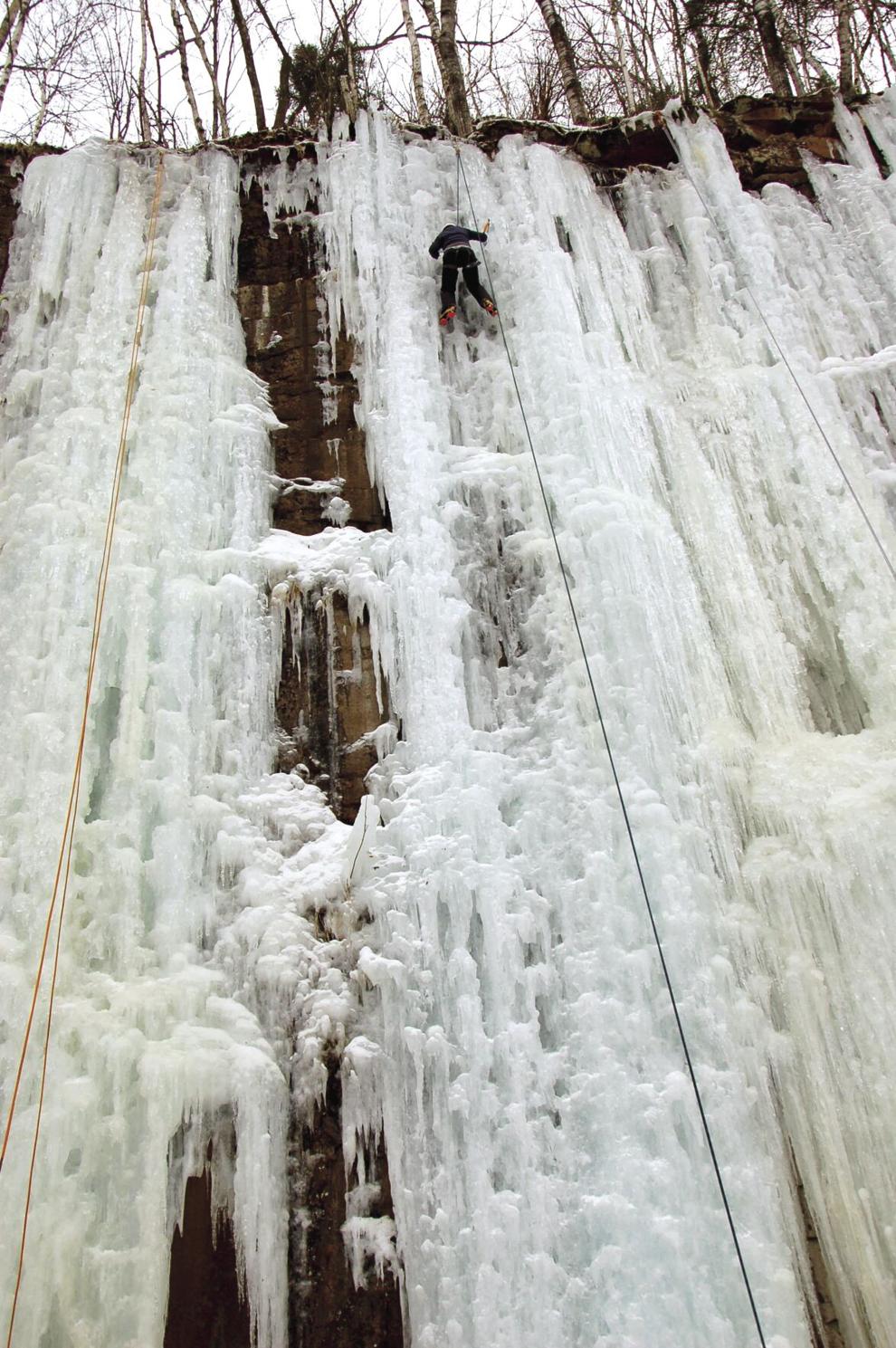 The Mamas even tackled the lesser-known adventure sport of ice climbing. "I'm terrified of heights, but it came with a big reward," Seiter says. "I've gone twice, and now I can focus more on form and strategy rather than sheer will to get up."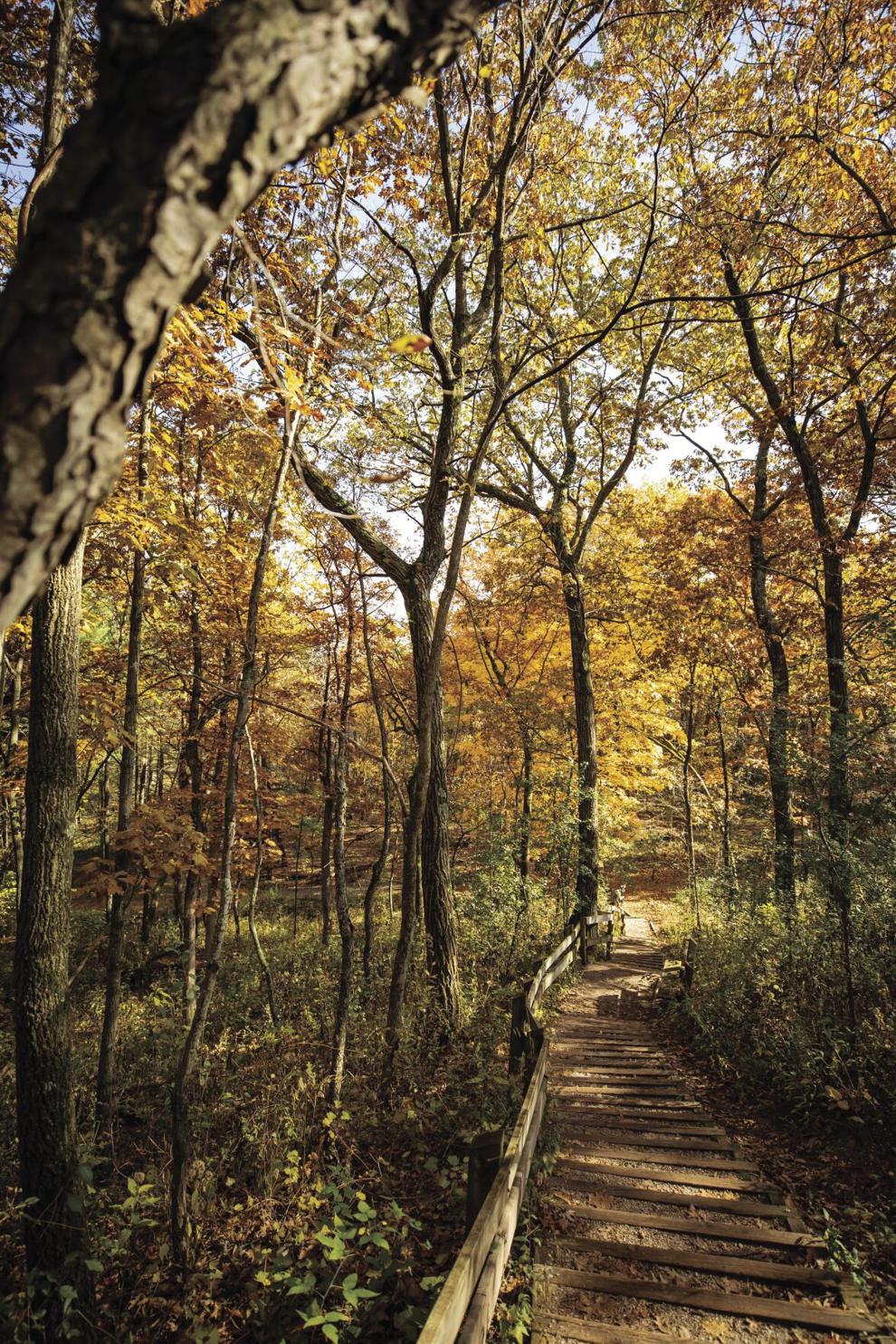 Ice climbing at Wyalusing State Park is a lot like rock climbing, but with the use of a pick to help ascend a frozen ice formation. Camping is also popular at Wyalusing, since you can camp atop a bluff about 500 feet above the confluence of the Wisconsin and Mississippi rivers. And if you're really all about embracing the ice, Lake Geneva is known as the iceboating capital of the world. Because it sits on the Ice Belt, the temperatures are cold enough to freeze bodies of water, but temperate enough not to produce piles of snow, creating a smooth, clear ice that ice-boaters can race across.
"There are a ton of people doing really cool things in Wisconsin," says Seiter.  "If you are interested in something, there is a group for it. Sign up and show up, even if you are by yourself. I promise you will have a new friend by the end."
Finding the right spot for you and your family to add adventure to your life might be dictated by activity or proximity to home. Most every state park accommodates a variety of skill levels and has mapping to guide you on the right path. Brown suggests doing thorough research of potential destinations to craft the right adventure for you and your crew. The work you do before you leave your house could make or break your trip.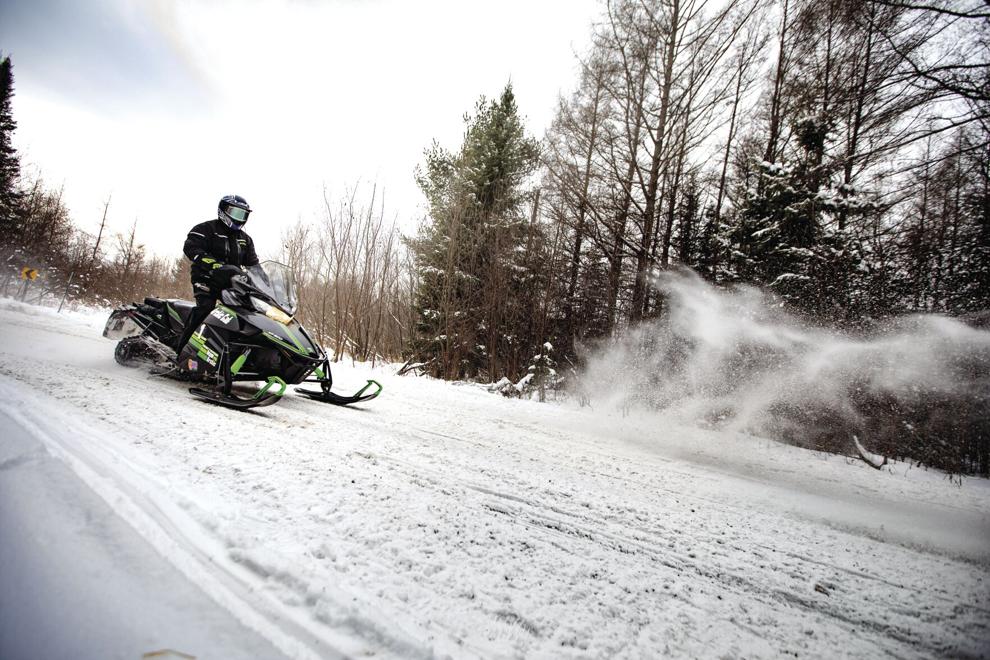 To get you started, here are some spots to get your outdoor adventure kicks right here in Wisconsin.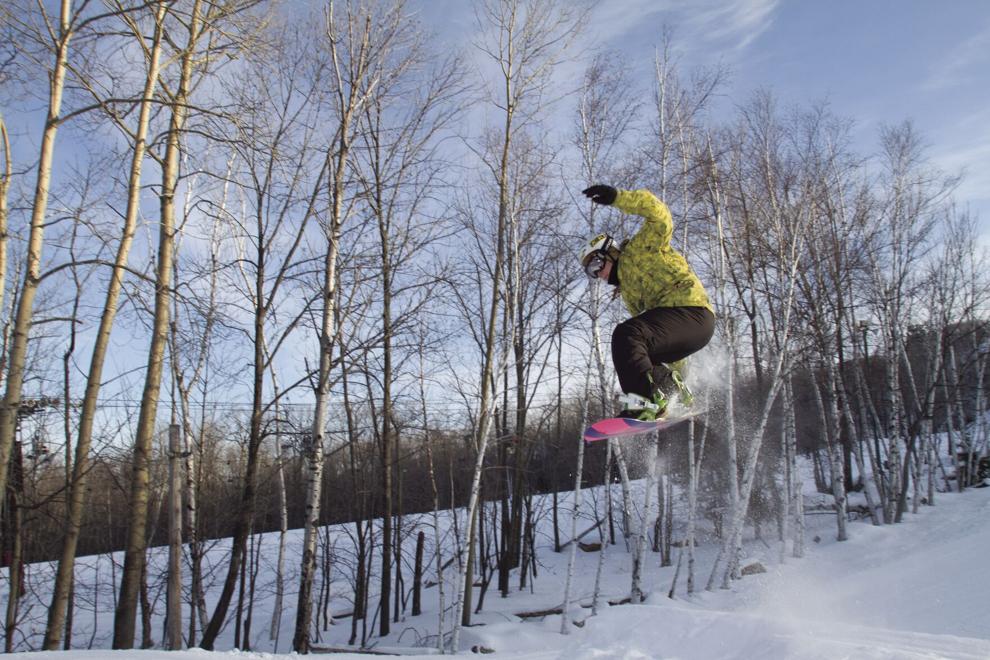 Within two hours of Milwaukee:
Deland Park (Sheboygan)
Sheboygan become famous for its bratwurst, but has recently earned the moniker "Malibu of the Midwest" for its budding surf culture — even in the winter. Deland boasts eight-foot waves during the winter, and late August through April is considered a prime time to hang loose on Lake Michigan. 
Devil 's Lake State Park (Baraboo) 
The state's most popular park offers just about every outdoor activity available. But Devil's Lake is best known for its incredible climbing and bouldering, and even offers instructors and guides for every level.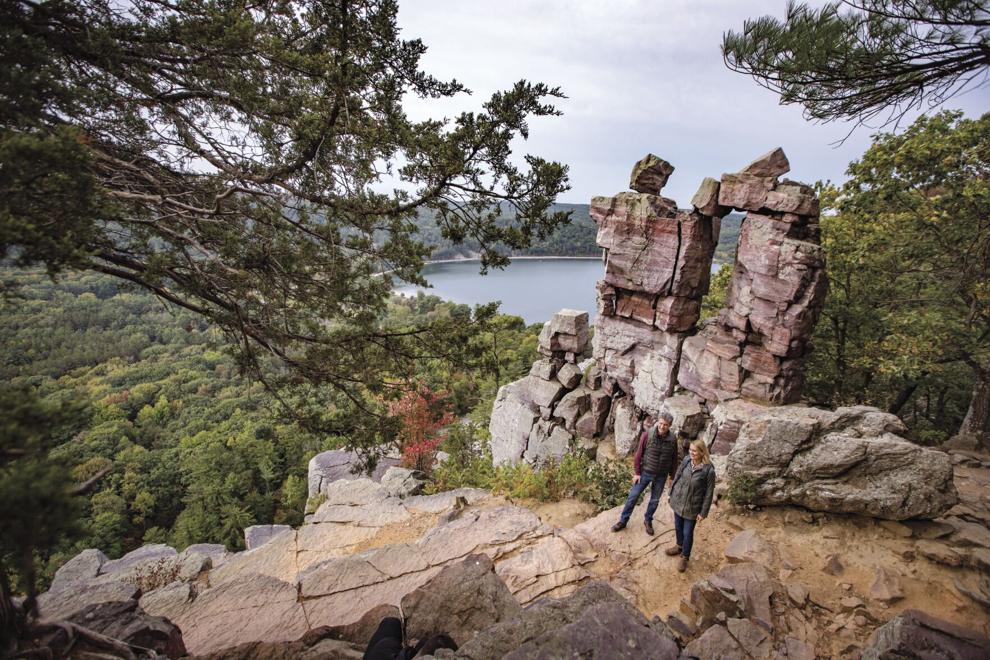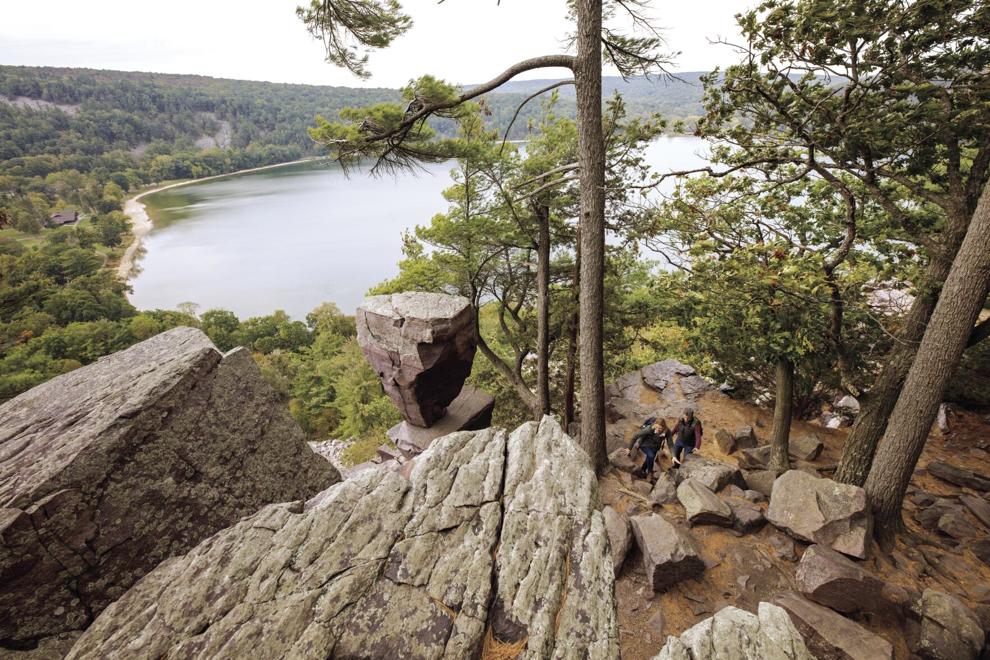 Governor Dodge State Park (Dodgeville)
One of the state's largest parks, Governor Dodge is located in Wisconsin's Driftless Wisconsin Area. Because the last continental glacier bypassed the region, it has a distinctive terrain. Explore over 5,000 acres of steep hills, bluffs and deep valleys, plus two lakes and a waterfall. Biking and climbing the giant sandstone boulders at Governor Dodge is a guaranteed thrill, but the best way to see the entire park is on horseback through 22 miles of bridle trails. (Note: you must supply your own horse.)
Kettle Moraine State Forest-Southern Unit (Palmyra)
For adrenaline junkies, the John Muir and Emma Carlin trails in the Kettle Moraine State Forest-Southern Unit are the best for mountain biking. They run adjacent to the Ice Age Trail and have some serious terrain for intermediate bikers and up.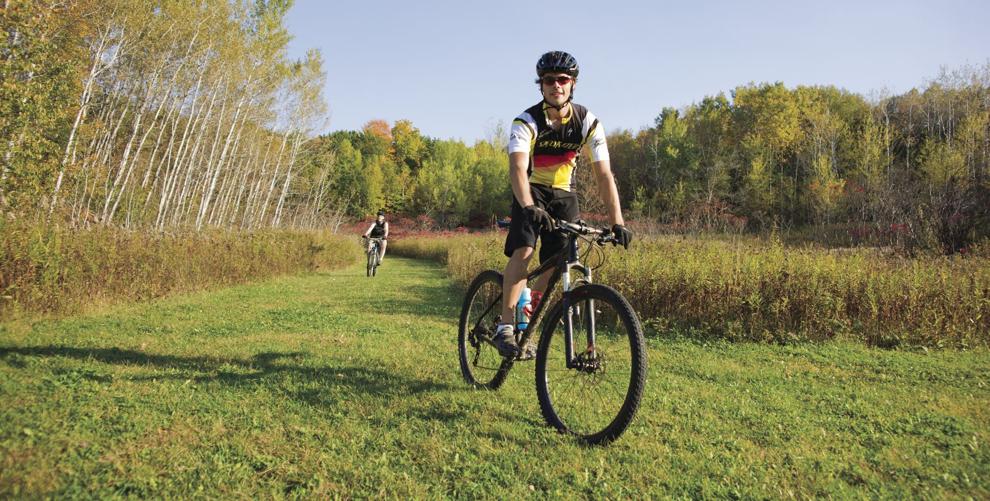 Within three hours of Milwaukee:
Black River State Forest (Black River Falls)
There are 33 miles of trails for ATV riding though the 68,000-acre Black River State Forest.Two forks of the Black River also flow through this beautiful park, with tons of trees making an ideal backdrop for canoeing and kayaking. There are eight different access points to the forest, four of them right off of Highway 94, making this an easy drive from Milwaukee's western suburbs. 
Dells of the Eau Claire County Park (Aniwa)
Swim under waterfalls and through rapids at the Dells of Eau Claire County Park. Known for its unique geological features created by the Eau Claire River, this park has ancient volcanic rock palisades and potholes carved in the rock by the falling water. There are also fantastic hiking trails with bridges over the Eau Claire River in the park or on the adjacent Ice Age Trail. 
Whitefish Dunes State Park (Sturgeon Bay)
Experience Door County in a different way on the eastern shore of the Door Peninsula. Whitefish Dunes State Park is home to the most significant sand dunes in Wisconsin, including "Old Baldy," the largest dune in the state at 93 feet high. A boardwalk and stairs lead to the top where there is an observation platform for views of Lake Michigan and Clark Lake.
Wildman Adventure Resort (Athelstane)
The Peshtigo River is the longest continuous stretch of whitewater in the Midwest with Class II, III and IV rapids. The views of granite rock formations and towering pines are almost as exhilarating as the ride. Wildman offers different types of watercraft and trips for a thrilling whitewater rafting ride or kayak glide on the water. Cap your adventure by sailing through the pines on a zip line tour that offers views of Wisconsin and Michigan. In the winter, the area offers multiple opportunities for cross country skiing, and back country skiing, snowmobiling and snowshoeing.
Four hours or more from Milwaukee: 
Interstate State Park (St. Croix Falls)
Wisconsin's oldest state park, along the St. Croix River, is a popular rock-climbing destination with 17 sections on the limestone bluffs along the river. Canoeing and kayaking are also popular on Lake O' the Dalles inside the park. The National Park Service awarded the St. Croix River the prestigious National Wild and Scenic designation for its remarkable recreational opportunities and notable history as a transportation route for Native Americans and explorers.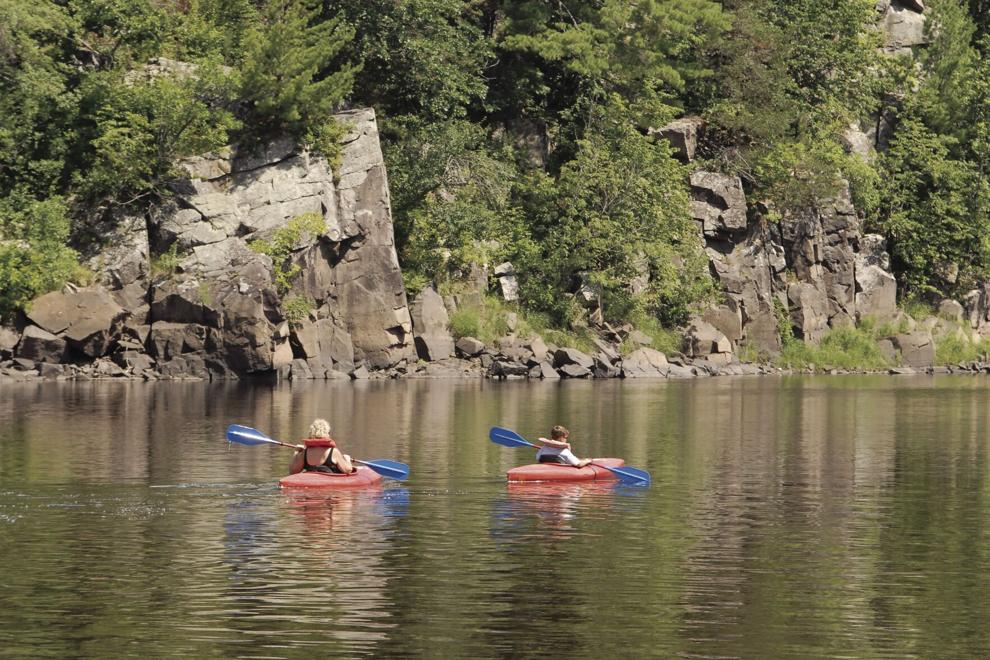 Big Bay State Park (Madeline Island)
You may not believe you're in the Midwest as you boat or kayak though breathtaking, extensive sea caves created by centuries of sandstone and waves freezing and thawing on the Apostle Islands National Lakeshore off Wisconsin's northernmost point. In the winter, Mother Nature turns the wonders into otherworldly ice caves.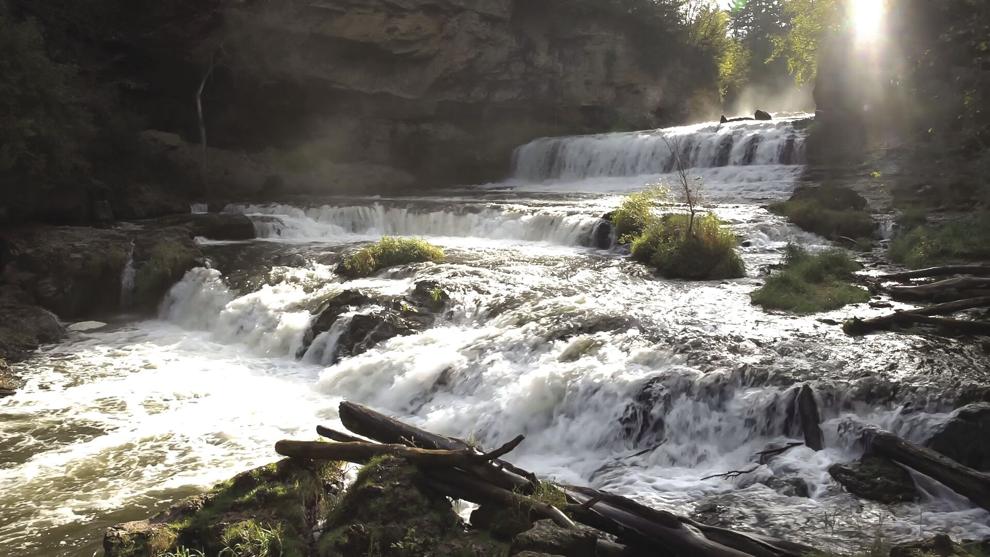 Willow River State Park (Hudson)
This park features spectacular views of the historic Willow Falls and the Willow River Gorge. At Little Falls Lake, find boats, canoes and kayaks available for rent. Test your skills at trout fishing upstream of the waterfall on the Willow River.
Serene spots for summer camping
Summer is the high point for camping in Wisconsin, but any time is ideal for dedicated enthusiasts. Camping has exploded in popularity in recent years, so identify your preferred spot and make a reservation early — many campsites start filling up as early as January. Here are a few under-the-radar spots to explore: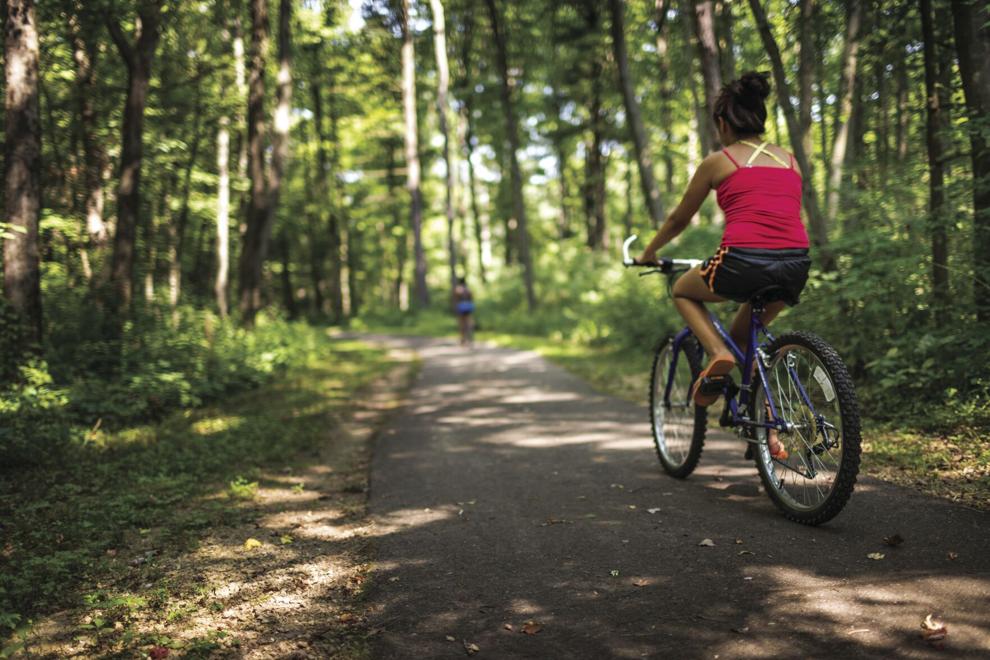 1. Mirror Lake State Park 
Set up at one of the three campgrounds or rent the Frank Lloyd Wright-designed Seth Peterson Cottage. Enjoy the calm, glassy, no-wake lake or hike up an appetite and follow the trail right to the famed Ishnala Supper Club.
2. Richard Bong State Recreation Area
With more than 200 campsites and sprawling prairies, it's a perfect spot to get in touch with nature. Even better, it's just 40 minutes south of Milwaukee so it's a great option for a last-minute trip. 
3. High Cliff State Park 
Set on Lake Winnebago — Wisconsin's largest lake — High Cliff has plenty of climbing, water sports and exploring for busy campers. It gets its name from the limestone cliff of the Niagara Escarpment that runs parallel to the eastern shore of the lake.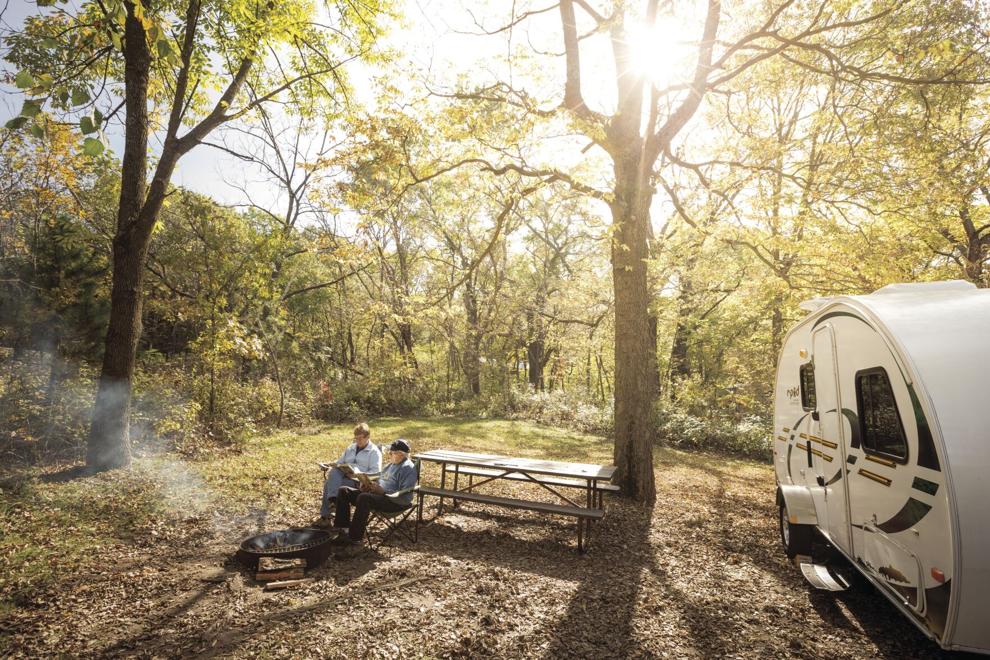 4. Perrot State Park 
Gaze at the confluence of the Trempealeau and Mississippi rivers from 500-foot bluffs at Perrot State Park near La Crosse. Known for its natural, archaeological and historical resources, Perrot is also great for bikers with direct access from the campground to the 24-mile Great River State Trail.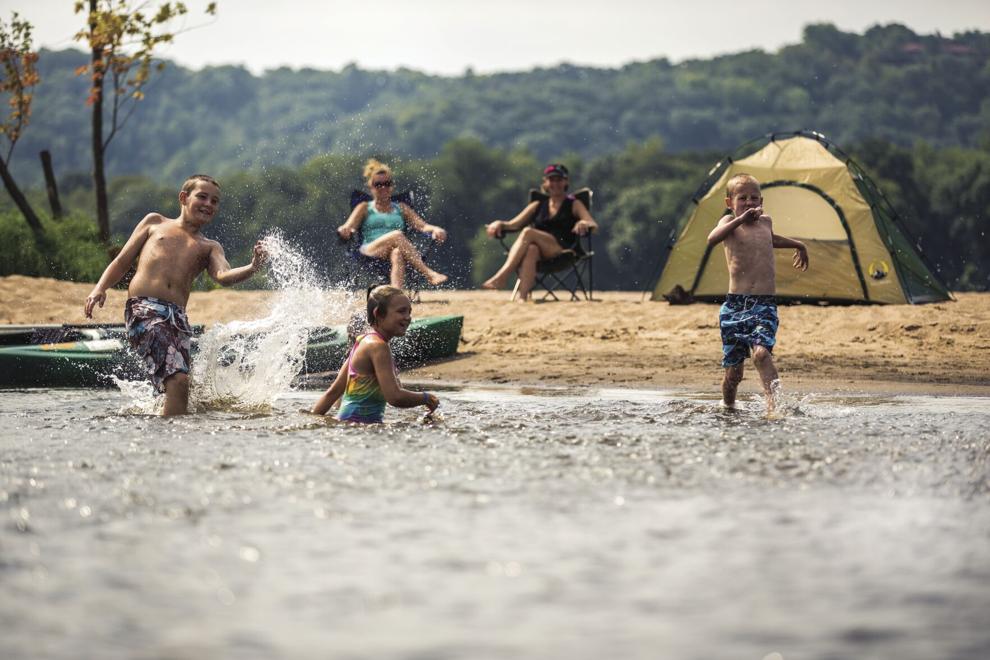 5. Lower Wisconsin Riverway
If you're a fan of rustic camping and navigating Wisconsin waterways, consider camping on islands and sandbars along the Lower Wisconsin State Riverway. Camping is restricted to a maximum of three days along this 92-mile stretch of river from Prairie du Sac to the confluence with the Mississippi (the Midwest's longest free-flowing stretch of river) and campers must arrive with all gear by watercraft. 
6. North County National Scenic Trail 
This premier hiking and backpacking trail stretches more than 4,600 miles through North Dakota to Vermont. In Wisconsin, the North Country Trail dips into the northwest corner of the state for 200 miles. Camp at one of these state parks along the trail for breathtaking vistas: Chequamegon-Nicolet National Forest, Brule River State Forest, Pattison or Copper Falls.
Want to learn more about how to connect with the great outdoors? Visit TravelWisconsin.com, OutdoorAfro.com or check out The Cabin podcast, produced by Discover Wisconsin. MKE