It's hard not to notice when Lex Allen is in the room.
First, there is his ever-present colorful turban. Come closer and you see it rests above warm amber eyes and a welcoming smile. Strike up a conversation, and you are instantly Allen's friend.
A musician, performer, advocate, humanitarian, observer and doer — and unabashed Milwaukee fan — the gender-fluid Allen's commitment to uplifting others is inspirational, especially in unsettling times like these. 

Allen grew up in Milwaukee, the middle child of 11 siblings, and learned early that resilience and a sunny disposition would carry him through whatever life threw his way. Allen credits his beloved mom Pam for teaching her brood to believe that no challenge is insurmountable if you put your mind to it. He began writing when the family was homeless for a time and discovered the transformative power of music from his DJ brother James.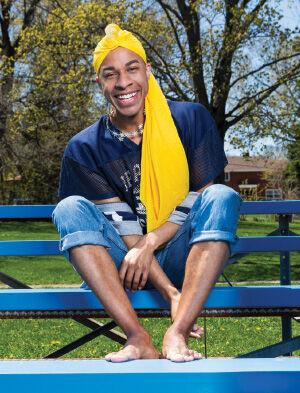 Allen's independence and entrepreneurial spirit took root at age 16 when the teen moved in with James and took a job in door-to-door sales while honing impressive photography skills. But he knew music was something special — and he had the pipes and song-crafting skills to back that up. 
After high school, Allen traveled around the nation and abroad working with and taking inspiration from a wide variety of well-regarded artists and producers, and learning more about himself as a person, a writer and a musician. Singles, EPs and his 2017 debut album "Table 7: Sinners & Saints" drew nationwide notice for Allen's smooth vocals and relatable songs. Gigs took him far and wide, and he was among the first artists supported by the local music accelerator Backline. He joined the Milwaukee Symphony Orchestra board. Life was good and getting better.
As Allen geared up for a busy summer of 2020 that included the release of a new album, the COVID-19 pandemic struck, bringing the entertainment industry to a halt —
and a new reflectiveness to music born of a social soul with a vast circle of friends who found himself suddenly quarantined.
"This is probably is the first time in our society that people are actually leveled, aside from the one or two percent," Allen says of the pandemic's widespread fear and new social order. "Everyone is on the same playing field and you see people as they are and not what their perceived worth is, in a sense." And though Allen is fiercely proud of always being in a state of evolution, he began to see himself differently, too, as an artist's natural self-reflection took on
new dimensions.

"'Who am I when no one is watching?' That's the biggest thing," Allen explains. "'Who am I at home by myself when I'm with my own thoughts?' I've had to develop 'self' in a way that I hadn't had to in the past few years, because I was always connecting with people and being out and about. Now it's even on a deeper level of self-awareness, because you have to ask yourself these questions — 'Can I rely on myself? Can I rely on others?'
"This is literally what the whole project was about, pulling back the layer of what people show you, pulling back the layer of, 'Look at this pretty post on Instagram.' Just really seeing each other and just allowing each other to be who we are, and our little fancy worlds," Allen continues. "My fancy world is different from someone else's and that's OK. We can come together and unite."
Allen plans to call the project "Fancy Habits," in part from the observations of having his packed social calendar narrowed to solo glasses of good wine, virtually connecting with friends and kitchen dance parties with his sister and nephew. And in part from recognizing that not everyone's version of comfort looks the same, by choice or by circumstance.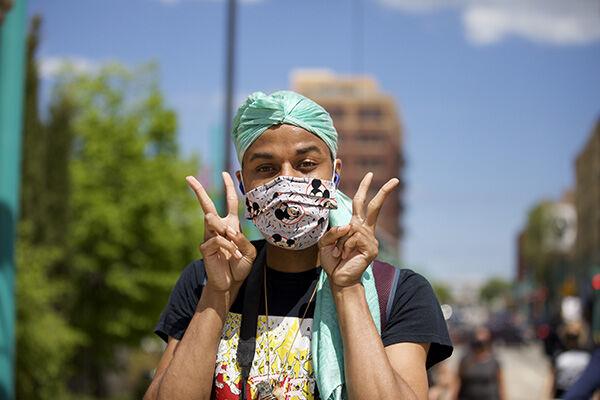 "Some people think a really good cup of coffee is their little fancy habit — they go sit at a little café. Some people's fancy habits are extravagant, being out and about on the town and being with their friends, and having lavish dinners," Allen reflects. "I'm finding myself in between all that, being part of the [MSO] board and then also being part of this community that's marginalized and different socioeconomic backgrounds. So it takes more of the role of the balance of culture and society, if you will."

With the in-person performance landscape largely on hold for the foreseeable future, and his record on hold, too, Allen currently participates in online concerts in for organizations supporting creatives and creative endeavors, produces smile-inducing Facebook videos (some based on characters he created from childhood memories of his mom and her friends), and has refocused on his passion for photography. He has also resumed working with other musicians to write music, polish their brand and define themselves as artists. And in the process, Allen gently reminds himself how far he has come as a person and as a professional.
In these uncertain times for the creative community, Allen stresses the importance of artists knowing their worth even as their ability to share their art is constricted. He offers himself as example.
Allen says a national fitness company recently approached him about a multiplatform licensing deal. Even when his production company was new, Allen garnered contracts worth thousands. This time, he says, "they offered me $500, and I was like, 'You're a multimillion dollar company, and we get licensing deals that are anywhere from $5,000 to $15,000. No. Artists have lost their shows and you come with a little smack-in-the-face offer like that?' I stood my ground.
"It's so important to know your worth, even when you feel it's the last [work] that you'll ever get," he continues. "It's never the last; there's always someone that sees your worth and will pay you what you're worth."
With a diminished live performance landscape, Allen and his creative circle have begun work on what he calls not a reinvention of the wheel, but a modernization of sorts. 
"I love the idea of going back to the whole grassroots situation, where you have backyard shows and people get to intimately get to know artists, rather than being at a venue of like 1,000 or 2,000 people," Allen says, appreciating that online performances have offered that as well. "We're going to have to be cautious, but I feel like, now more than ever, people are realizing the value of artists' creativity. Could you imagine being in quarantine with no books, no music, no visual anything? People are realizing the worth of an artist — and I hope people realize that after the quarantine as well."
Allen has also thrown himself into local human rights demonstrations, lending his signature unifying talents to marches and rallies for Pride Month and the Black Lives Matter movement.
"I belong wherever I take myself," says Allen, who counts Wisconsin Sen. Ron Johnson's daughters among his close friends. "The person sitting next to me could be worth a million dollars or the person next to me could be a homeless man on the street, and I'd be like, 'Hi, do you want to have a conversation? Who are you?' I don't care about what's in your pocket, I want to know who are you as a person, what's your story, what have you been through?
"It's a continual process," Allen reflects of the communal growth that comes from connectivity. "I think it's what you focus on. I can focus on what my fears [are], or I can start doing something right now. Engage and encourage people to engage. But the thing is connecting. Don't be fearful. Connect, participate, share an article, be insightful, donate if you can. I know my part is to connect, make people laugh, make people feel something — these little things that you can do to spread awareness, spread joy and help where you can."
In other words, to borrow Allen's signature motto: Keep it moving, yah beauts. MKE