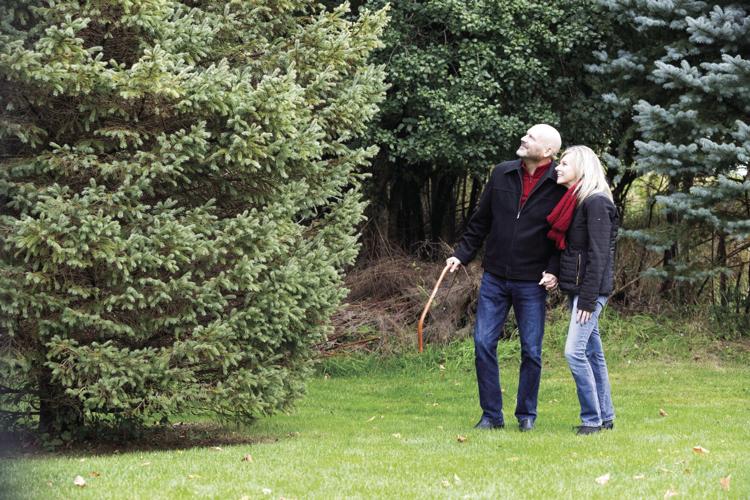 Dan Needles, WISN
Tradition: Annual Christmas tree-cutting
Cutting a Christmas tree is a relatively new tradition for Dan Needles, WISN-TV sports director and anchor. His girlfriend Kathy and her children, 19-year-old daughter Erin and 17-year-old son Ben, have been doing it for years.
"I'm looking forward to continuing it as the kids get older and eventually bring their significant others along too," Needles says. "Hopefully someday our grandkids will come along as well."
Thanksgiving is Kathy's favorite holiday, so there's a moratorium on any yule décor until the day has passed.
"Once Thanksgiving Thursday is over, Friday begins all things Christmas," Needles says. "With teenagers involved, our day begins when they decide to wake up. And after a day of filling up with a huge turkey feast, they tend to sleep in, so we normally head out by noon."
Outfitted with a handsaw and a blanket to lie on while Ben cuts the tree, they head to Snowkist Tree Farm in Dousman to search for the perfect Fraser fir ("We love the way the ornaments hang," Needles says).
Six-foot-tall Ben serves as the ideal measuring stick. "If the tree is a head taller than him, we have the perfect height," Needles says. "Depending on the weather, we may argue over a few trees. If the weather is bad — cold or rain — we can usually agree pretty quickly."
One year, Erin made the selection that still gives the family a laugh. "Erin says she really shouldn't be the one to pick the tree because of her choice that year," Needles says. "Her eyes were far bigger than the space for the tree, and it needed to be altered in order to fit in the living room. She says she should've known it was too big when they had to bring a four-wheeler out to drag it back to the car."
As the tree gets positioned in the stand and lights are added, Kathy breaks out the Bing Crosby and Johnny Mathis holiday tunes. "Then the boxes of ornaments come out and the kids roll their eyes as Kathy reminds them where each ornament came from," Needles says. "Clearly they've heard these same stories throughout the years. They humor her and let her tell memory after memory.
"We love it all," he adds. "It's a great way to bond."
---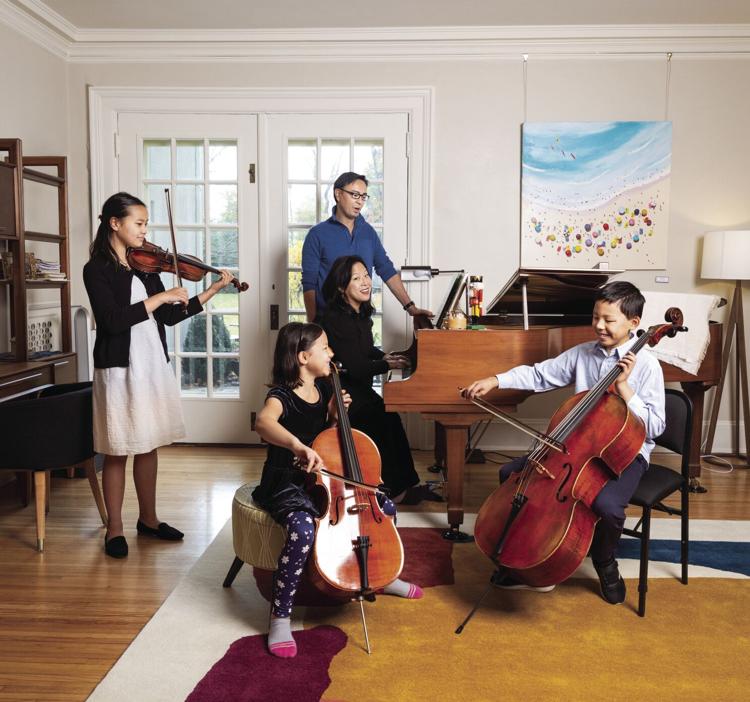 Ken-David Masur, music director, Milwaukee Symphony Orchestra
Tradition: Music and reverence
"Christmastime growing up in Germany was always a very special time, and this past Christmas, we actually spent that time — before coming to Milwaukee with our kids— in my hometown of Leipzig," says Milwaukee Symphony Orchestra music director Ken-
David Masur of treasured family traditions, some of which he's since brought stateside.
"We would go to the Christmas market almost daily and have hot drinks, look around, and have some cozy and very comforting food in an area in Leipzig called the Naschmarkt, which is where, for hundreds of years, they would serve food next to the marketplace."
And always, says Masur, there is music — listened to, played and sung as a family — from Leipzig's famed St. Thomas Choir to traditional German and English carols and advent songs. "My wife is the designated professional pianist in the house, so she's at the piano and the kids all play instruments. But of course we all sing," says Masur. "Deep down, I think the singing is very big — just making that part of the daily lead-up to Christmas."
The Masur family places its focus on reverence and the German tradition of Saint Nicholas Day over frenzied shopping and Santa Claus. "There's a little more around the topic of the advent and around the arrival of the baby Jesus," Masur says. To that end, "we have a lot of carved wood items, with the candles and the pyramid and the incense houses that we have from Germany."
One of the family's favorites is a replica of a little church in Seiffen, Germany, which, is where authentic German wooden toys are still made. "My parents actually got married in that church, and I was baptized there as well," says Masur. "My hometown of Leipzig is not too far from Seiffen which has that very special, almost fairytale-like status."
The little church in Seiffen also harkens to Masur's fondness for "Silent Night"— or "Stille Nacht" in German. "The 'Silent Night, Holy Night' idea of it being written for a small church by a pastor who had a congregation of maybe a couple dozen people, and then the music director writing the song that only a few people first sang huddled in a cold church … It comes from this small-town idea, this very remote, small village on top of a little hill in the cold, surrounded by lots of snow.
"There are certain things that we hold onto that are pillars for our well-being as human beings — things that are constant and are reliably there: certain aspects of family and the seasons," Masur continues. "The holidays are so important for us, almost as pillars of time that we can look for as moments of respite, of regeneration, of remembrance, of gifts, of moments where we can be completely filled with gratitude."
---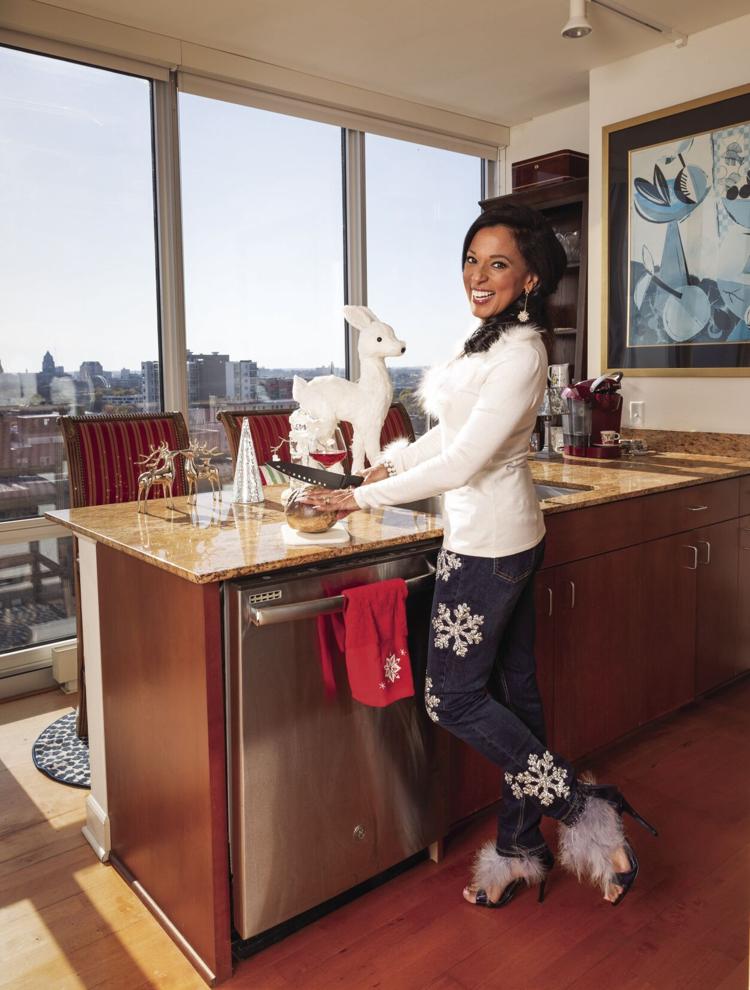 Mary Stoker Smith, WITI
Tradition: Trees, rutabaggies and oyster stew!
When it comes to holiday traditions, Fox6 anchor and reporter Mary Stoker Smith has a trio of favorites from her childhood days in West Salem, just outside of LaCrosse.
The first is her memories of accompanying Dad to a tree farm to find a fresh holiday pine. "I'm the youngest of five, and this was our day," she says. "I always felt so special, like 'Yes! I landed the prime job of the day!" Truth is, my siblings were thrilled they didn't have to go out in the cold."
Over the years, the father-daughter tradition expanded into shopping at the mall for Mom. "I'd pick out the swanky sweaters in bright colors, slippers and robes," says Stoker Smith. "I did the shopping, and he did the buying! It was our time to have fun and chat."
Stoker Smith also loves to recall Grandma's annual feast — one that included a minimalist take on rutabagas (or "rutabaggies," as she called them). "Rutabaggies are boring and bland unless you jazz them up," she says. "We did nothing to them! My grandmother would just mash 'em up, throw a little butter and pepper on them and we had to eat them! She was wonderful, until it came to those rutabaggies. How could such a lovely person enjoy such a bland vegetable?" Stoker Smith laughs.
In Grandma's honor, Mary has tried her hand at perfecting rutabagas for the holidays. The result?
"Epic fail," she says. "You ever tried to cut a rutabaggie? Got a chainsaw? They take forever to cook too. So now I look for them pre-made at the store. I'm still not crazy about them, so if anyone has a delicious recipe, send it my way."
One culinary holiday tradition, however, remains dear to Stoker Smith's heart. "We also had oyster stew every Christmas Eve," she says. "My family still makes a pot just for me each year. I get to LaCrosse and buy the oysters, Mom pulls out the old, tattered cookbook and we go to town. The nostalgia that goes with every bowl is really my favorite part because it takes me back to my childhood and growing up in a big, fun-loving family."
Stoker Smith is wistful recalling the holiday memories. "It's the simplicity of it all — the genuine experience of talking, laughing and anticipation as we head to the tree farm or the mall," she says. "No cell phones. Just conversation without the distractions that today can bring."
---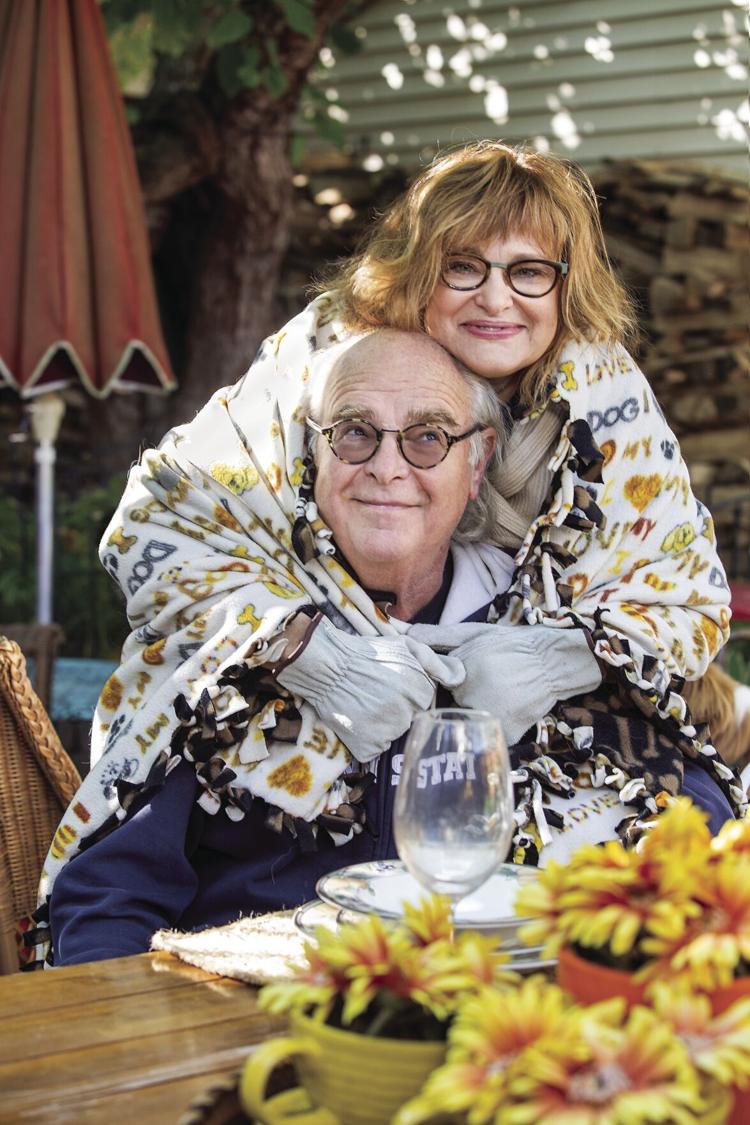 Tami Workentin and Jim Pickering, actors
Tradition: A Thanksgiving twist
For generations of the show's devotees, Jim Pickering is synonymous with Milwaukee Repertory Theater's annual production of the Charles Dickens classic "A Christmas Carol." With the Christmas season often a merry mélange of performances for Pickering and his wife, actress Tami Workentin, the couple gives special attention to Thanksgiving, settling into an annual cozy, food-centered celebration that blends their own family favorites with those of their longtime friends John and Victoria Sanchez.
"Victoria and I, in about three minutes over text message, can confirm the dishes that have now become the combination of these two family traditions," Workentin says, sharing that she trained with James Beard Award-winning chef Tom Douglas while in her hometown of Seattle.
This year, though, the celebration will look a bit different. With large indoor gatherings off-limits, Workentin and her friend have, she explains, "decided that we have to embrace the new. And going forward, that becomes part of [what] creates the healing part of how we can pivot into a new way of going."
To gather safely, the families will make the most of Pickering and Workentin's cozy outdoor spaces.
"We have this great backyard with a bricked-in patio with little white lights and such," Workentin says. "We've decided that we can bring a second fire pit back there so we'll have four different places where people can eat."
And what they'll eat? "If it can't be cooked over an open flame, it can't happen," Workentin chuckles. "We've decided we're going to smoke the turkey, cook potatoes on fire pits, grill corn. We are going to find a new way to cook! For me, that's just fun."
For additional entertainment, Pickering and Workentin scoured Goodwill for classic board games that will anchor a round-robin game night. "We'll have old-fashioned board games at each table, so the winners stay and the losers move on to the next table," Workentin says.
"It actually makes me cheer up to go 'We have to embrace this thing!'" she says. "What we've always loved about Thanksgiving is the expectation is so low. It's really about gathering as these families, and this tradition is so important to us in that we love one another."
---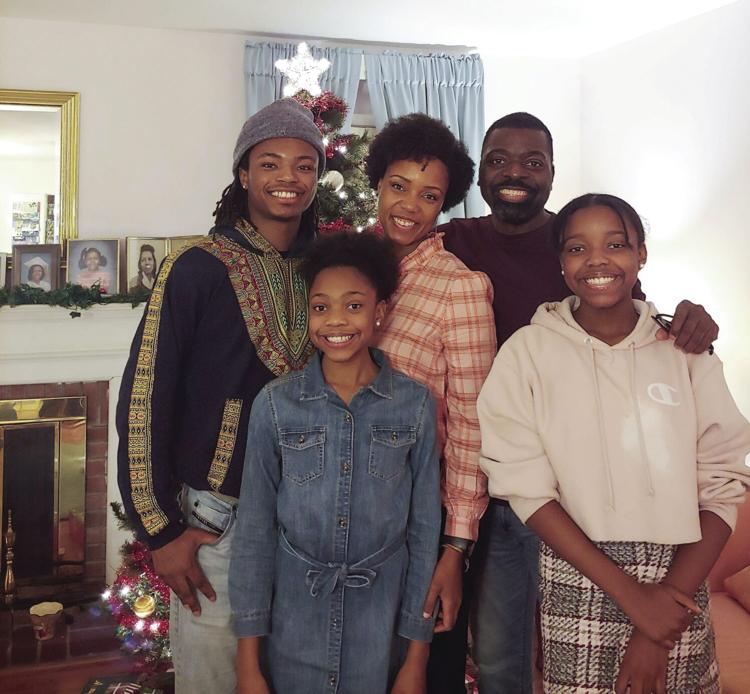 Malkia Stampley and Chiké Johnson, actors
Tradition: Performing, then peace
For some married couples, sharing a workplace is strictly no-thanks.
For happily wed Milwaukee-based actors Malkia Stampley and Chiké Johnson, their first opportunity to perform in a full stage production — and in a show that is special to their family — was pure joy.
In 2015, Johnson performed the role of Jacob Marley in Milwaukee Repertory Theater's annual "A Christmas Carol" while his bride warmed hearts as noble Mrs. Cratchit. And though the two characters didn't cross paths on stage, the time spent together rehearsing, letting their kids roam the theater, and enjoying the spirit of both the play and the season was a gift itself.
"As an artist family, we're apart a lot. Either he's traveling or I'm traveling," says Stampley, who also directs, and works in television and film (as does her husband). "So for us to be together for the holidays was big. And then to be in the same show!"
Johnson says the pair so enjoyed the experience that not even showtime could interrupt their bond. "One of my favorite memories was, we were downstairs in the green room and we were just being silly," he recalls. "I hear the music for the next scene and I have to turn around and bolt! The lights come on and, if I would have been a hair later, I would have been late for the scene. We laugh about that all the time."
Providing joy to other families via performance at the holidays is tradition for the entire Stampley-Johnson crew. Stampley has directed her daughters in Langston Hughes' "A Black Nativity." The couple's son, a sophomore at Boston's Berklee College of Music, performs music in seasonal shows. 
After that, it's family time.
"A lot of times now, I'm doing a show right after Christmas, so I get to spend Christmas with the family and then I'm gone by New Year's," Johnson says. "So we don't celebrate Christmas so much the traditional way. Just being with my family — and it seems like it's getting rarer and rarer with our family — is always just special to me."
"From Christmas to New Year's, that's our sacred week," Stampley agrees. "In theater, most performers are free that week. So that's when Chiké's mom will come to visit, and we do all-nighter game nights or Wii game nights and we play Scrabble or make cookies. We gave and we gave and we gave as performers and there are a lot of promotional things for the holidays as well. So when all of that stops, man, it's just blissful to be able to rest and sleep in with the family and just enjoy each other. Because then we know by New Year's we go right back to it!" MKE