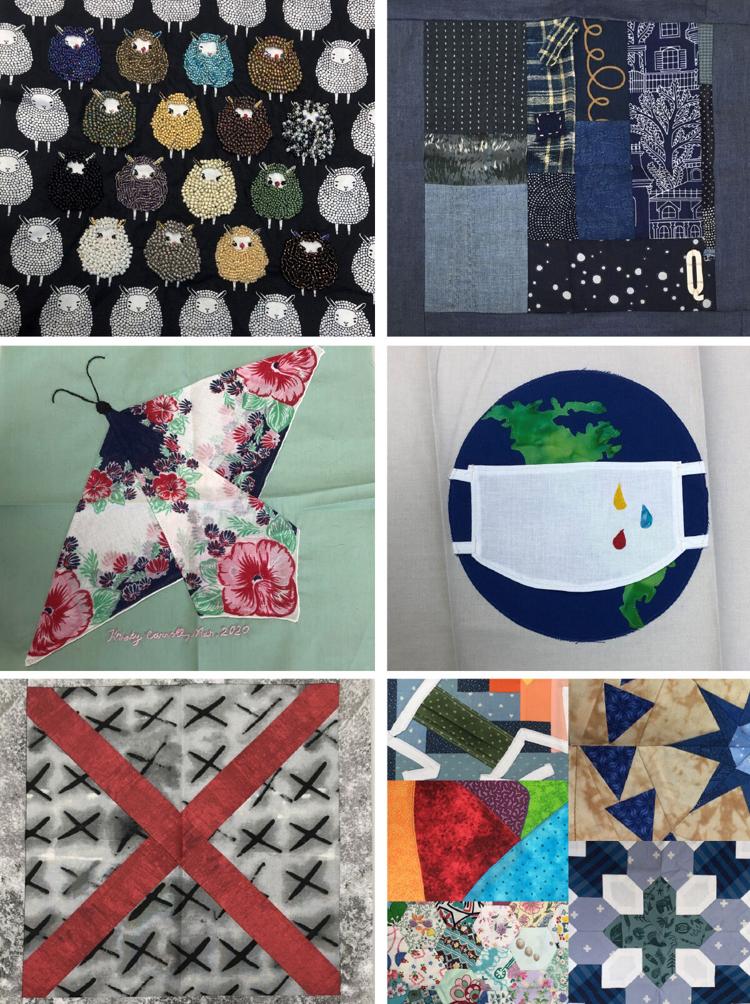 When the pandemic led Cedarburg's internationally regarded Wisconsin Museum of Quilts & Fiber Arts to close its doors as a Stay at Home order loomed, its staff gathered virtually to discuss ways to keep the public and the worldwide fiber arts community engaged with the museum and each other. 
In the closing moments of that meeting, an idea sprang forth that melded the comfort of artistic expression and the fierce uncertainty that the global population was now feeling. 
"We started thinking about different projects that we could do that could make people feel good in the midst of something that's beyond all of our control and really scary — what we could do to give people a little bit of hope or that kind of cathartic feel," explains Melissa Wraalstad, the museum's enthusiastic and engaging executive director. "Devyn McIlraith, who is our education and collections manager, went 'What about a quarantine quilt?'" 
The idea was so appealing that the team soldiered on with their meeting, figuring out basic logistics and what they hoped the project might look like and offer. The group set a few parameters — to start, homebound artists would submit a 12" x 12" square decorated however they saw fit — and then cast a line to see who might be interested.
"We figured we'd throw it out on social media and see what happened. It just went crazy," Wraalstad chuckles. "Within a day or two, it was our most viewed post. It really struck a chord with people."
Wraalstad bolstered the response with an official press release, convened her group again to lend more structure to the project, and waited, hoping she'd receive enough squares to craft a quilt or two. As of press time, she has enough for upwards of 20, which she and her team are readying for special online programming and an exhibition rolling out on August 6. And the museum continues to collect squares from around the world, recognizing that pandemic restrictions may impede artists' ability to safely mail their work.
"The block that's from the furthest away so far is Israel," says Wraalstad, saluting the Cedarburg post office for gathering the shipments and cheering each time one arrives from a far-flung spot. "There's some from the UK, the Netherlands … we're pretty darn close to all 50 States. … We've received quilted blocks, painted blocks, blocks painted on fabric. We've received knitted blocks. We've received lace blocks. All different types of fiber art." Each is cataloged, photographed for the museum's social media accounts and dispatched to sewers to assemble in quilts.
The staff and volunteers marvel at the wide range of images of messages conveyed on the squares.
"Everybody's experience with this is different," Wraalstad reflects. "And again, the idea is meant to help people realize that, even if they're staying at home, they are still together, they're still part of something. … It's almost like an artistic snapshot of what happened this year, essentially. They're representing themselves by creating something and being a part of this big community art project.. One that started in the last five minutes of a
staff meeting."
The Wisconsin Museum of Quilts & Fiber Arts is now open to the public with appropriate safety measures in place, and continues to offer a robust selection of virtual experiences on their Facebook page. For more information on the museum, the Quarantine Quilt and other upcoming events and exhibits, visit the museum online at wiquiltmuseum.com. MKE