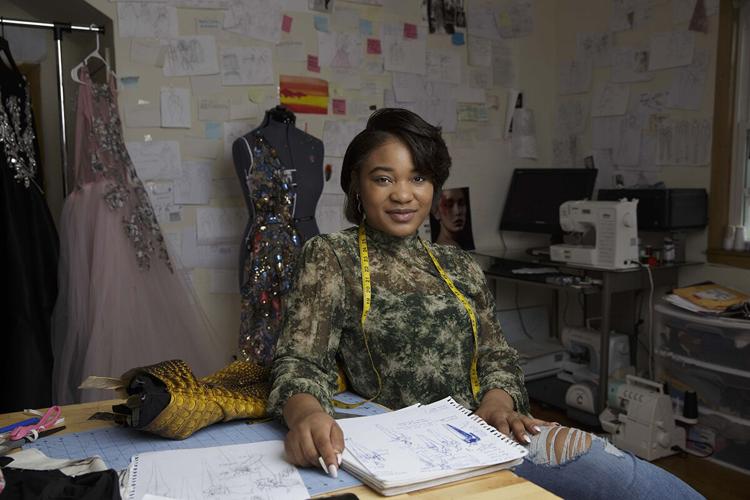 "Fashion is something that I don't have to say; I can just make it. There might be a piece that makes me feel strong today, and no one has to know that, but I know that – it's just my little secret."
Meet Darnisha Nolan, a 21-year-old fashion designer who sews expression and imagination into each custom garment. The shy Milwaukee native has "conversed" through fashion design for almost a decade. But lately her designs have been speaking loudly.
In just the span of a few months, Nolan has designed for celebrity clients under Christian Cohen in New York, crafted clothes for music artists signed to the YSL Records label in Atlanta, and presented a collection at Milwaukee Fashion Week — all while continuing to tailor for a local men's clothier. With all these fruitful opportunities, the only thing missing, she says, is some solid rest. Rather than dwell on the lack of sleep, Nolan just keeps her head down and sews.
"If I look up, I'll see everything I have on my plate," she says. "I just try to pursue my passion, so I won't lose it."
Nolan's life seemed to always be steamrolling toward fashion. As a third-grader, her passion took shape when she started sketching ways to tailor handed down clothes to her liking. A few years later, she held her first needle and thread while learning from her grandmother how to mend tears in clothing. Pretty soon, her entire family recognized the girl's desire to do more with her sewing talent and banded together to purchase her a sewing machine for Christmas.
Amid practicing the basics of stitching on her new machine, Nolan made her first complete design — a purple and white, African style, floor-length dress. From then on, her hands kept turning fabrics into wearables that often appeared in the closets of her family and friends. This lit a fire under Nolan. She recalls the excitement she felt when she first saw her designs being worn in public.
Since then, Nolan has upgraded that gifted sewing machine, but she still keeps it as a security blanket of sorts. "That's the sewing machine that followed me everywhere I've been; it's helped me become a woman," she says. "That's the sewing machine that got me my full-ride [scholarship]."
Indeed, Nolan was offered a full scholarship to a local university to study fashion design. After a year, she left it behind.
"[The course load] was a lot of everything," she says of the decision. Faced with the challenging reality of being a first-generation college student and navigating a curriculum that wasn't focused solely on fashion design, Nolan decided instead to trust herself to reach her fashion dreams. She has her sights set on creating an eponymous original brand called NOLAN and currently designs two to three custom pieces a month for a wide range of clients. Often, she pulls bits of inspiration from video games. The animated worlds especially spill into her designs when she creates custom cosplay costumes.  
"I love cosplay fabrics — something hard, stiff, lots of details," she says, noting that she typically sends those outfits to New York and California for wear at discotheques, and cosplay concerts and conventions.
Nolan entered this fantasy realm after landing a gig to create outfits for PrideFest, which led to designing for men and women in the drag scene. Here, she learned to embrace extravagant embellishments, vivid colors and added playfulness.
"They taught me how to be confident in my work — and to work it!" she says.
Through all of Nolan's decisions, opportunities and milestones, she says her greatest success is never giving up: "Relying on myself and continuing to push forward, even though I have some really hard times – that's my biggest accomplishment."MKE