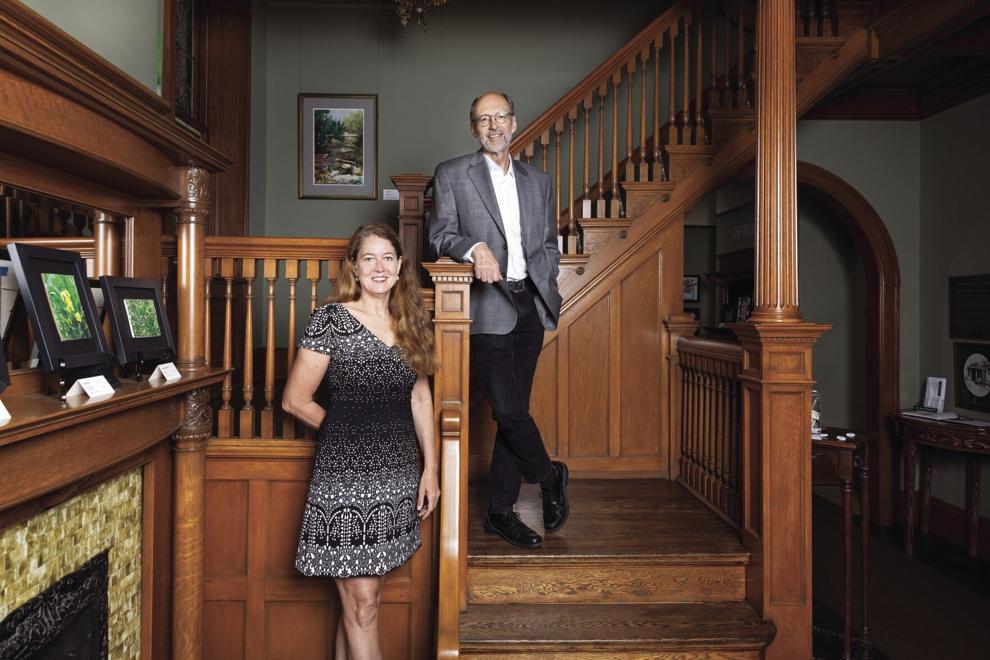 Thomas Lidtke has devoted his career to bringing art and a healthy appreciation for its breadth and nuances to others via creation, instruction, authorship and museum administration. Still, when Lidtke planned to teach an advanced art history course focused solely on Wisconsin art, he found himself frustrated by the hodgepodge process of assembling his course materials. 
"There was such a lack of information," Lidtke explains, chatting with me at the Cedarburg Art Museum on a rainy day. "I had to take research papers and clippings and old art history books and do a lot of photocopying to put together the material. It was just really disorganized and difficult to follow."
Lidtke knew, though, that the subject matter was worth the effort. 
Artistic Evolution
Lidtke, the celebrated longtime executive director of the Museum of Wisconsin Art (MOWA), had shipped works by Wisconsin artists around the globe and discussed them at symposiums. From his studies and personal and professional experiences, he knew the place and perception of Wisconsin art had in the world.
So when he eventually stepped down from MOWA and was consulting for the then-newly created Cedarburg Art Museum, Lidtke thought this quasi-retirement might be the perfect time to move forward with a more comprehensive survey of art in Wisconsin, compiled with the help of others he knew would share his passion for the project. 
With the museum's backing, he began refining his content and wrangling the assistance of experts in those realms. Independent curator and art historian Annemarie Sawkins, editor and author Melanie Herzog, archeologist Robert Boszhardt and art essayist Fred Schwertfeger, among others, helped turn his vision into reality. 
The result is "A Creative Place: The History of Wisconsin Art" — the first-ever book to embrace the entire 13,000-year history of art in Wisconsin. Filled with stirring imagery and recognizing the work of more than 600 statewide artists, "A Creative Place" is not only a compendium of art movements and pieces, but covers their role in evolving a place and its people. And unlike its few predecessors, the book is also fiercely inclusive, recognizing the vast role of women, Native American and Black artists in creating and advancing the state's artistic contributions.
Exploring Art's Parameters
Sawkins, Lidtke's equally impassioned coauthor, joined us to talk about the project and her role in assembling its contemporary section, covering the post-World War II period through the end of the 20th century. "I thought about the history of art in the United States, and how what was happening in Wisconsin fit into that national dialogue about art or the more avant garde direction of art," she reflects. "At times, Wisconsin was very progressive. At other times, it was perhaps a second wave of a certain movement. But there were always some very creative people pushing the boundaries of what constitutes art.
"It's more than just artists and artwork," Sawkins continues. "We were looking at art institutions, at schools, even at galleries. I also include art in the press — how art was covered, and what magazines were coming up that were significant to reinforcing the art scene in Wisconsin."
That blending of culture, creativity, history and enterprise, says Lidtke, gives "A Creative Place" relevance and appeal beyond the interests of art lovers alone.
"We put art in a context so the average reader will find it interesting," he explains. "For example, the sociopolitical context of the timeframe in Wisconsin had a big influence on the artwork … We go heavily into who they were and how they fit in." 
WI Art Through The Millennia
The story really starts many thousands of years ago, as Boszhardt and Herzog examine the functional and illustrative artworks created by the first inhabitants of what is now the Badger State. Six more chapters trace the creation and importance of art through the centuries, celebrating the contributions of the Wisconsin melting pot — its various Native American tribes and influx of German, French, French Canadian, British, Scandinavian, African American and other settlers — as the population grew more diverse.
"Readers are going to see a lot of different images and conversation about art," Lidtke says. "For example, effigy mounds of the Native Americans are covered. In the contemporary section, neon art is talked about. The grottos of Western Wisconsin are discussed. In the 1960s, a group of five or six artists took the art world by storm because they created earthworks. Well, earthworks were being created here over 1,000 years ago by Native Americans. I think that will help broaden people's understanding and appreciation of what is art."
While the book does spotlight recognizable names — trailblazing female wartime photojournalist Dickey Chapelle, studio glass innovator Harvey K. Littleton, photography icon Edward Steichen, wildlife master Owen Gromme, the painterly O'Keefe sisters — Lidtke is particularly excited to introduce readers to lesser-known creators such as Mark Robert Harrison.
In the mid-1800s, Harrison came to Oshkosh, then Fond du Lac, from Toronto and created what he called "illuminated chemical dioramas" — massive works created on specially treated canvases and lit front and back to further bring life to the depictions. 
Works By Women
Lidtke and Sawkins were exhilarated to spotlight women's considerable place in the fabric of the Wisconsin art landscape, both literally and figuratively. 
"What was really exciting was the work by women artists, and the degree to which they really take over are creating some fantastic, multifaceted and complex work," Sawkins says. "There's an important crossover that you don't see in the earlier periods that creates a real dynamic and a new direction for art."
"In the mid-19th century, women played a very important and dominant role in the arts," Lidtke adds. "One might think in the Victorian era that that wouldn't have happened. But Wisconsin, at that point, was extremely progressive."
Lidtke also heralds the later efforts of Harriet Clinton, District Director of the Women's Division of the Works Projects Administration in Milwaukee County, and Milwaukee educator Elsa Ulbricht in the democratization of art during the Great Depression via the Milwaukee Handicraft Project, which offered meaningful employment to more than 5,000 women and minorities in the Milwaukee region. "That idea of 'art for all' really was strengthened by those early settlers in Wisconsin," he says.
Because her own contributions covered 1940 through 2000 (the book's historical cutoff point), Sawkins was fortunate to be able to pore over archived issues of the Milwaukee Sentinel and Milwaukee Journal, speak with many of her subjects and their families and friends, and draw from their personal archives. "I interviewed a lot of the Black artists in Milwaukee to uncover that art scene, which is quite different from the white art scene and then [thought] about the critics and how they wrote about the art as well," she explains.
Inspiration For The Future
Lidtke and Sawkins hope that their ambitious and intensely researched look back inspires Wisconsinites to delve further into the role art and creators have played in the evolution of their states and the nation as a whole.
"It may start a trend of other states writing books on the history of art in their own state," Lidtke says. "So far, there's a California book and there'll be the Wisconsin book, but I don't know of any other state that's actually created a survey of the art within their state. In that sense, it's a progressive idea." MKE
Learn more at cedarburgartmuseum.org/history-of-wisconsin-art-book