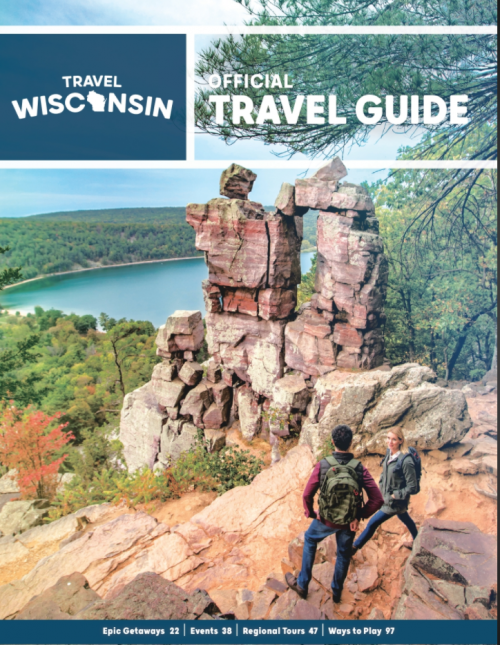 The complexion of summertime in Wisconsin is changing by the minute thanks to the coronavirus pandemic, and you might think Secretary of Tourism Sara Meaney is stressed beyond measure. But Meaney — who is also mom to four school-age kids — knows that the appeal of the Dairy State is broad and adaptable, and Wisconsinites only too willing to sing its praises and help their neighbors.
"It became a question of how do we stay on strategy while pivoting to activities that are appropriate, so that on the other side of this we have a potential for a strong recovery and a healthy industry despite the challenges everyone's facing," says Meaney. "So, we've worked to pivot our activities from advertising to tell people to come to Wisconsin, or travel through Wisconsin, to instead encourage Wisconsinites to focus on supporting their local businesses that make our communities so great to live in, as well as great to visit."
In other words, while paying a visit, virtual or otherwise, to your favorite neighborhood shop or restaurant may not feel like playing a part in Wisconsin's tourism, Meaney assures you it is.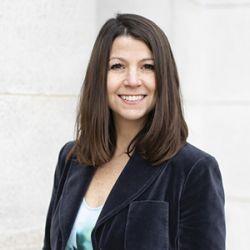 "Big picture, the Department of Tourism exists to bring people and dollars to Wisconsin so that those dollars can be leveraged and reinvested in our communities," she explains. "It's a completely interconnected ecosystem. When you have a bookstore that may struggle its way through this, we know we want it to be OK on the other side. So how can we creatively inspire people to go out of their way at a time when everything feels out of the way and we're all in our homes. How can we leverage the resources and the investment in our communities to ensure that we have that wide, interesting, eclectic and colorful business landscape?
"Our main streets and our walkable communities rely on those businesses and those shops and those activities to make it a great place to live. We know that we need to help keep it alive, keep it viable for an unknown period of time."
Tourism in Wisconsin generated $22.9 billion in business sales and $13.7 billion in spending in 2019, supporting 202,217 full- and part-time jobs. Which means that one in 18 Wisconsin jobs is connected to tourism. Click here to view a PDF.
"It is about taking care of each other at a time when we all need a little extra help — and some people more than others," Meaney reflects, adding that those efforts "are a true reflection of what it feels like to visit Wisconsin, frankly. … It's that energy, that generosity."
"That has shown up in our research and that's exactly what we are focusing on: To ensure that Wisconsin remains relevant and viable in their minds as the next place they want to go when they can travel," she continues. "And people are going to travel again. People are going to want to leave their homes and they're going to want to get in their cars and they're going to want to go drive somewhere and feel joy and make memories with their friends and their families again."
To get you on your way — or let you travel the Wisconsin landscape from the safety of your home — here are a few of the things Meaney and her team have crafted to keep that excitement alive.
Plot your course/Travel Guides
Meaney says that there's no better time to plan your post-pandemic escape than right now, while your family is gathered around you and itching for adventure. Visit travelwisconsin.com/order-guides to download and print a host of travel guides geared to a variety of interests — or have them mailed right to your home. Then spread them out on floor or table with your crew and imagine the possibilities.
"It's sort of like window shopping: you browse through and imagine 'where might I go, what should I imagine doing, what types of activities can I plan when I'm there?'" Meaney says. "The combination of those physical, magazine travel guides, and the resources on the website, are really great indicators that people are still dreaming about travel and about vacation. We all need hope and something to look forward to now, and so I think that's one of the most important roles that we are playing in people's lives right now."
Get started now at travelwisconsin.com/order-guides
What's Your Pleasure?
No idea where to even begin? Visit the Travel Wisconsin homepage to explore stories and virtual experiences focused on natural wonders, fun photo ops, urban adventures, cozy cottages and more.
"The top article on this page right now is the Five Ocean-Like Beaches on Wisconsin's Great Lakes," says Meaney. "If people aren't familiar with Wisconsin, they may be surprised to find out that we have so many lakes, and you may look at [some of them] and think it's an ocean."
Go Fish
Looking for inspiration for your next Friday fish fry takeout spot? Fish Fry Face Off not only clues you into 20 of the state's fry spots, but gives you the chance to vote for you favorite to be crowned the statewide winner. Cast your vote now at travelwisconsin.com/fishfryfaceoff.
"Many of these restaurants are trying to offer curbside and delivery and it gives people an opportunity to be inspired to order a fish fry from one of their local restaurants and send some resources their way," says Meaney. "But also, it's something that people do associate with Wisconsin and in a positive way."
You can also find a list of dining destinations to support with gift card purchases for pick-me-up presents and future food-centric road trips at travelwisconsin.com/dining.
Clean Sweep
To kick off summer, Meaney and her team crafted an enter-to-win sweepstakes with trivia and simple sign-ups at travelwisconsin.com/great-wisconsin-getawayTravelWisconsin.com.
Winners will receive prize packs with gift cards for ten travel and tourism destinations throughout the state, from "Gaming in Green Bay" to a "Ride the Rails" getaway and other themed escapes.
"We want to make sure we start giving people things to think about, even though they can't travel now," Meaney says. "They can win a trip somewhere in Wisconsin to be used within a year, so there's plenty of time for people to take advantage of their winnings. There will be one winner a week over 10 weeks."
Enter daily at travelwisconsin.com/great-wisconsin-getaway
Go Slow (TV)
Culled from Wisconsin From the Air, the Department of Tourism's partnership with PBS Wisconsin, Slow TV is a series of videos meant to inspire travel plans and relaxation in a single online experience.
"It is incredible aerial scenic footage from all over the state, one in summer and one in the winter and one just focused on water," says Meaney. We're repackaging the content … shortening those longer-form shows into smaller videos and then putting those out and making them available through social media, so that people can discover them as they're scrolling and just stop and watch and discover that location and the beauty in that location. We call it Slow TV, because it really does give people a moment to stop and slow down and find a moment of joy."
Experience Slow TV at travelwisconsin.com/article/summer-getaways/slow-tv.
Get Fired Up
Even folks who prefer hotel rooms to campsites love the serenity of a campfire. And Travel Wisconsin's Facebook page offers a host of beauties to bask in while the Stay at Home is in place.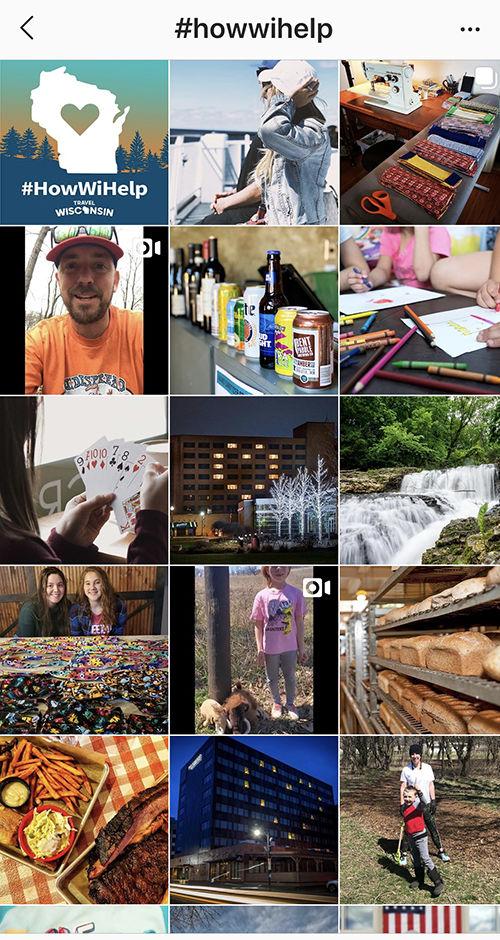 "I loved this idea right out of the gate," says Meaney. "We want to bring people closer together, so we're creating campfire environments on social media, every Thursday for eight weeks.
To relax in the glow of a gorgeous virtual fire, visit facebook.com/pg/travelwisconsin/videos/
#howwihelp
For a daily dose of feel-good, type #howwihelp in your Instagram search for uplifting glimpses of how people are helping one another throughout the state.
"We're asking people to tag [their posts] with #howwihelp and then we're pulling all those things into a gallery on our website, so people can scroll through and just be inspired and amazed by the incredible generosity and kindness of our neighbors and friends," says Meaney. "There's hundreds and hundreds of stories from individuals to businesses who've donated resources, products, time, skills and talent to the little activities of putting hearts in the window and chalk art on the sidewalk as people walk by. And fundraisers to keep your favorite restaurants open and donating dollars to the staff."
Looking Ahead
Though many of Wisconsin's signature summer activities have been cancelled or postponed, Meaney and her team are hopeful that some high-profile events will proceed.
"What we are seeing is really positive signs that quite a few major events — whether they're business conventions or a special event for the public — they're postponing rather than canceling," Meaney notes. "So, we're going to keep reminding people that 'postpone, don't cancel' is the best way to go, unless it's just impossible to be able to list that kind of an event."
Front of mind is the Democratic National Convention that could offer a significant shot in the arm for businesses suffering the fallout of the pandemic. But Meaney is optimistic.
"There are a lot of unknowns the preparations continue for a successful August DNC," she says. "The city is preparing for that, the plans are shifting to the new date, and many of the national media outlets have begun booking events again. CNN announced that they will be taking Turner Hall as their headquarters venue. There's also the excitement behind an event called the Society of American Travel Writers, which is a community of people who write about travel for very influential outlets. That is being hosted in Milwaukee in October and it's still scheduled to happen. The event itself brings people and dollars, and it brings attention through the experiences of those people who are travel writers who will have traveled to and throughout Wisconsin." MKE