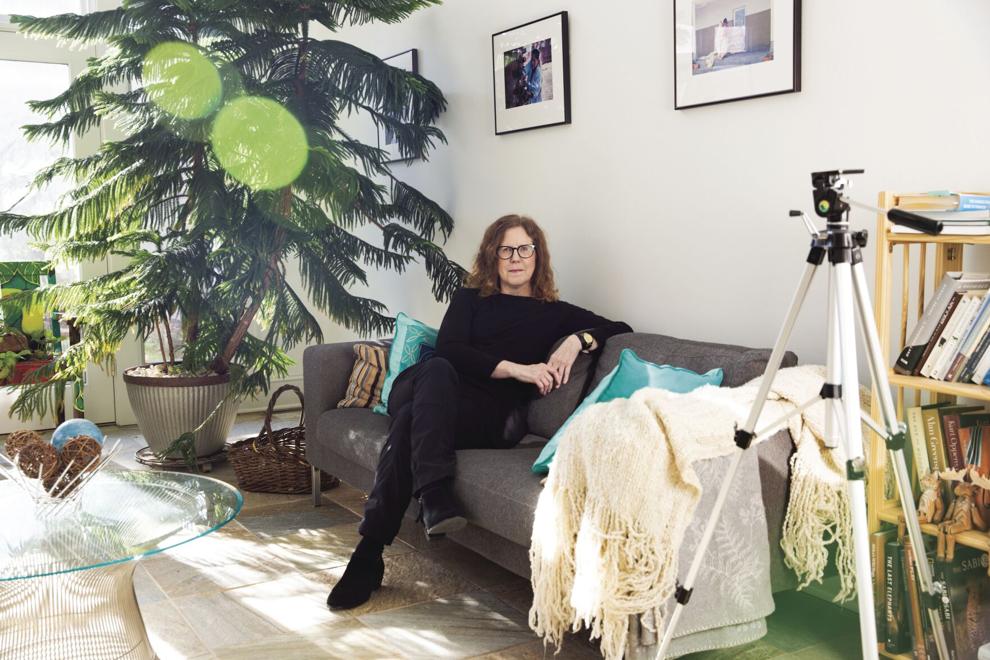 Shorewood's Jeannée Sacken is Indiana Jones with a camera. She knows what it's like to climb too close to the edge of Mt. Kilimanjaro, photograph the world's deadliest snake, and record lemurs serenading each other in the treetops of Madagascar. Her big adventure began while visiting the Mosquito Coast, where she jumped right off a train and into her future. 
You traded a career as an English professor in Rochester, N.Y., for the life of a photojournalist/writer. Why?
My father was in very ill health. I visited him at the hospital in New Jersey, and it turned out to be the last weekend of his life. He was drifting in and out as I was sitting next to him in bed. But he was able to say to me, "Don't die with regrets. You have to follow your dream. You tell stories."
He died two days later. I thought about that for the next two years, and realized my dream really is to tell stories. To that point, I had defined myself as a teacher — I loved everything about the academic life. But you don't have to do this your whole life, so I resigned my tenure and became a photojournalist. 
How did you make the transition?
The moment I knew I was going to do it, I was literally jumping off a train. My husband and I were on a train on the Mosquito Coast in Honduras, along with a fixer. I saw something out of the corner of my eye – this woman with a long stick, picking it up and slamming it down. I said, "What is she doing?" So the fixer had the train slow down, because it wouldn't have stopped, and we literally jumped off. And I'm watching the train literally going down the track … She was pounding cassavas to make tortillas.
Are you completely fearless?
I get vertigo, which develops late in life. We were climbing the Western Breach — an 80-mile, 10-day climb that goes from 15,000 to 18,000 feet, and  only 1 percent of climbers go this route — on Mt. Kilimanjaro in Tanzania. If you're scared of heights and scared of edges … that literally made my knees turn to Jell-O and disoriented me. At about 16,500 feet up, I stepped into mid-air — my husband was right behind me and one of the guides was right in front of me when it happened. Each grabbed an armpit and literally saved my life.
What else scares you?
Snakes. I met and photographed a black mamba, the most dangerous snake in the world. If it bites you and inserts the neurotoxin, you have 15 to 20 minutes to live — unless you happen to be close to a hospital. The snake itself is olive green, but when it opens its mouth you see the black. And it's big – it can grow to 14 feet and can veer up [pull its head and the next several feet of its body straight into the air] to 5 or 6 feet.
What's the most frightening thing you've ever done?
I was in far western Mongolia to photograph the Golden Eagle Festival. The winds and the snow picked up so that the airport in Bayaan Ulgii, a little tiny one-strip airport, closed because it was unsafe to fly. This is pretty typical in the wintertime in Mongolia … and we're supposed to be back in Ulaanbataar that night. So we were told, "Your only option is to drive to the next airport," which was three to four hours away. What he didn't tell us was our driver would be someone who'd never driven the route, didn't know the route, that half the drive would be off-road, that it was snowing there, and we'd be driving after dark. I was terrified, because we had no idea where we were going. 
What are some of your favorite destinations?
I absolutely adore Zimbabwe. A few years ago, we photographed the great elephant migration. They migrate in search of water and more food. There were thousands of elephants and a few people, and I absolutely loved that trip.
We also did a photo shoot in Madagascar. Both my husband and I are passionate about saving endangered species, and the Madagascar lemurs are very much endangered. I particularly wanted to photograph the indri indri — they live exclusively in treetops and they are endangered specifically because of habitat loss. They have the most haunting mating and territory-claiming songs they sing to each other, so I wanted to photograph them and record them. 
What do you believe is the best photo you've shot?
I have a number of favorite shots, but one of them is called "Mayan Girl with Corn Dolls." Very early on in my career, I was in Honduras and we were up near Copán. I'd been working on an essay of women and children around the world and their work. There were no roads, so we had a three-hour horseback ride up to the mountain to a village. I was specifically there to photograph a mother — she was 26 with six kids. I was getting nothing, and I mean nothing.
Literally when I get a photograph that I think is really good, my fingers tingle. So we're taking a break and I just saw out of the corner of my eye her daughter — she was all of 10 years old and she was standing in the shadows and holding this corn doll. Many of the girls and boys make these dolls and dye them with vivid colors. 
I took this one shot and boy, did my fingers tingle. I knew I'd gotten it. They only spoke Mayan, but my fixer spoke enough Mayan to get the story of this girl: Education there is technically free, but the families have to buy uniforms and books, and they change both every year. Really poor families can't afford to buy uniforms and books every year, so usually only one child gets to go to school. In the picture you can see her fingers are permanently stained. They use the money from the sale of the corn dolls so their brother will have the money to go to school. 
This is a picture that just speaks to my heart. Literally, she is just standing in the shadows, off to the side.
In 2021, Ten16 Press published your first novel, "Behind the Lens." It's the story of Annie Hawkins Green, a seasoned photojournalist who, after surviving a Taliban ambush, returns to Afghanistan to teach at her best friend's school for girls. How did it feel to be recognized with three American Writing Awards?
I had been hoping to get one. When I saw "Book of the Year for Fiction" my jaw hit the table. And I want the second book, currently undergoing final edits, to be as good or better. It's called "Double Exposure," in which Annie goes back to Afghanistan. I can't say more because if you haven't read the first book, I don't want it to be a spoiler. 
With the withdrawal of U.S. troops from Afghanistan, Annie's story is particularly timely.
As I watched the Taliban take over, all the horrific events Annie experiences in these two books are coming to life in a very (for me) scary way. Watching these characters who had originated in my imagination now having these real-life events unfurl was nightmarish. I had some contacts in Kabul — women, all of whom had to go underground and hide. What the people in Afghanistan are going through right now is horrific. Millions of children starving to death. A horrible, horrible situation.
I keep thinking about people in Afghanistan who helped coalition forces and are still there waiting to get out. At Fort McCoy, we have a lot of Afghan refugees, many of whom left with the clothes on their backs. There are many wonderful agencies who are helping with Fort McCoy, like local mosques and Lutheran Immigration and Refugee Service. 
What do you think will happen to Afghan girls who want to go to school?
At its core, both of my books are about educating girls in Afghanistan, against the wishes of Taliban and Isis ... I hope the Taliban at some point will allow women and girls to continue their education. Other organizations are trying to help with that; I actively support Women for Women International, local funds for women, the Malala Fund, and Women for Afghan Women. Things are on hold for now, but they're still trying to get educational and medical help so women can be trained as physicians and provide the medical care that women in Afghanistan need. MKE
The audiobook of "Behind the Lens," narrated by Nicole Swanson, is now available on Audible. Sacken's followup novel, "Double Exposure" is scheduled for release on Sept. 27. See more of Jeannée Sacken's powerful photography at https://www.jeanneesacken.com/home/